10 tips to throw a summer BBQ for less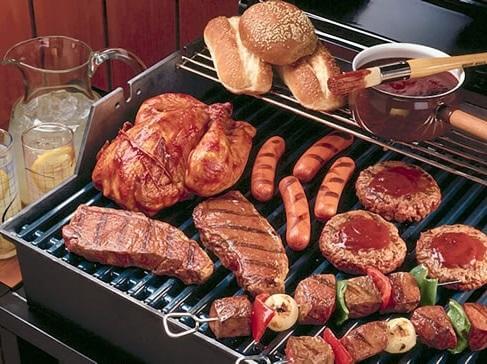 'Tis the season for firing up the grill! Nothing is more fun and satisfying than gathering your family and friends together for food and festivities. But, if you're not careful, your enthusiasm can quickly morph into a party way over your intended budget. Instead of going overboard this BBQ season, take a look at the ten tips below for how to throw a budget friendly BBQ — in your very own backyard!
No worries, you won't need to make huge sacrifices and you definitely won't come across as cheap. You'll still be able to enjoy all sorts of fun foods and games while keeping plenty of green in your pocket.
1. Make it a potluck
Consider asking your friends to bring a dish to share. This is very common when having a casual cookout and guests are usually more than willing to pitch in. This way, you can focus on the main dish and let guests take care of sides and desserts.
If you're shopping for BBQ supplies, always be sure to match current BBQ coupons with store sales. Check out the Ultimate Coupon Club Coupon Match Ups to cut your grocery bill and stretch your BBQ budget!

2. Create a themed buffet
Ever put together a hot dog bar? It's simple and your guests will enjoy inexpensive hot dogs with all of the fixings. Include an assortment of veggies, celery seed, pickles, condiments, bacon, chili, cheese, and other toppings. Let guests design (and even name) their own hot dogs!
3. Skip the bottled beverages
Instead, get large jugs and make your own drink mixes. People tend to open bottle drinks, set them down, and lose them. Instead, put out plastic cups and gallons of drink mix for guests to enjoy. Make your own ice ahead of time and save even more.
4. Gather up your games
Use items you already have or hit up a thrift store for more. Grab a volleyball, bocce ball set, board games, and other family friendly games that guests are sure to enjoy. Or, ask guests to bring their favorites.
5. Host a cook off
Host a pie cook off or other food item cook off. This is a great way to not only get dishes for guests to enjoy but it adds an entertainment element! Gather up a panel of judges and start eating!

6. Let there be light
Twinkle lights or candle votives from your local dollar store add instant ambiance and charm! You can get a variety of colors, plus the candles should help repel some varieties of bugs.
7. Use what you have
Do you have a garden or fruit tree? Find ways to build these items into the menu. Not only will the products be fresh, but they'll be free. Try salads, grilled veggie skewers and more.
8. Download/rent free tunes
You can use Amazon gift cards or iTunes cards you have to download free tunes to dance and relax to. Or, go to your local library and check out CDs for free.

9. BYOB
Again, there is nothing wrong with asking guests to bring beer or wine they wish to enjoy or their own lawn chairs. This often is asked of guests at cook outs so many will do it anyways. This way, you don't need to bust so much of your budget on booze or lawn seating!
10. Have inexpensive activities for kids
Hit up the dollar store and get colorful chalk, bubbles, silly string, and more kid friendly items. This way the kids will stay occupied while the adults enjoy catching up. If you're so inclined, you can get each child their own baggie of goodies to enjoy!
See how easy it is to host a fun and frugal BBQ? You can easily pull these tricks off without a lot of effort and see what a huge difference it makes to your budget. Guests will still have a blast and leave full of good food and memories. Why not give these tips a try this weekend?
What tips do you have for hosting a budget friendly BBQ?
Ryan Preston is the founder of Ultimate Coupon Club, a frugal living blog helping others learn how to live well and save more — all while having fun! He is also a Savings.com DealPro and teaches Savings Nation workshops in New Jersey that help people learn how to save up to 50% off their grocery bills.
(Source: Savings.com)