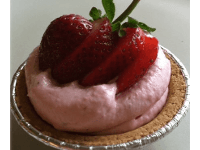 17 cool, fun-in-the-Sun eats and treats for Summer
(photo courtesy of Bargain Blessings)

I saw an image on a social channel last week that said something along the lines of, "Parents, you only get 17 Summers with your kids, so make them count." Wow, that was deep! Only 17! And Summer always seems to fly by so quickly, too.
This definitely makes me want to make ever single second count this Summer. And it also makes me want to make some yummy meals for my kiddos this Summer, but I gotta be able to do it on a budget! I like how
Ryan shares frugal BBQ/grilling tips here
.
So here are 17 awesome recipes to share, from the DealPro network. We've got you covered when it comes to good tastes on a budget.
Desserts

1. Let's start this list out right with these mini strawberry cheesecakes on Bargain Blessings. Mmm...my mouth is already watering over this one.

2. Starting with dessert is always fun, right? If you're not into the strawberry cheesecake, you can try your hand at making this ice cream sandwich cake!

3. Since it's blackberry picking season, this Blackberry cobbler or Blackberry pie would be the perfect, yummy way to make something delicious out of those morsels that the kids are able to pick for you.

4. And if you're still in the mood for pie (who isn't ever in the mood for pie??), this blueberry pie is sure to be a good one! Just don't let it drip on your clothes! Yikes, blueberry stains are no fun!

5. One of my personal favorites for Summer is a good strawberry rhubarb pie. Mmm...I still remember those moments in my childhood when we pulled fresh rhubarb out of the garden and made a bunch of pies.

Appetizers

6. Now that we've gotten dessert out of the way (Mmmm, yum!), let's talk appetizers. These grilled avocados with salsa are fun, frugal and delicious at the same time!

7. I like a little spice in my food, so these chicken cheese stuffed jalapeno poppers look like just the thing to hit the spot!

8. I love me some good hummus, but did you know it's really easy to make at home? Check out this easy homemade hummus recipe.

9. There's just something about garlic that I absolutely love. I wish I could put it on everything! And right now I'm ready to make these grilled garlic tomatoes.

Meals

10. Planning to throw some meat on that grill? Check out this tasty "Dibs on My Ribs" recipe. They're perfect for those late night campfire nights to go along with these mini smores!

11. And if you need something fast to throw together, check out this sautéed spring mix with sausage. You could mix any kind of meat with it and have a quick and frugal meal!

12. Looking to keep things a little healthier by reducing the amount of red meat you eat this Summer? This chicken burger recipe will help you out!

13. These chicken lettuce wraps take about ten minutes to prepare and are oh so good!

14. I love figuring out the different things that I can cook on the grill. Cooking outside helps me keep the house cool during the hot Summer (need to save on that cooling bill, right?)! These grilled potatoes and vegetables will make the perfect side to accompany a grilled meal!

15. If you're looking for something fun to make, these mini sombrero tacos are fun. My kids are all about making food fun, so these will be a hit!

16. A little Thai flaire in my cooking is always good, so these Thai shrimp nachos may just find their way into the meal plan.

17. And if you're looking to balance it all out with a nice healthy dish, check out this quinoa vegetable meal.

What are some of your favorite eats and treats for Summer? We're always looking to try new things, so I'd love for you to share!

Crystal Collins is an Atlanta local, adventurer, a health advocate and thrifty as can be. Check her out on her blog at TheThriftyMama.com.

(Source: Savings.com)