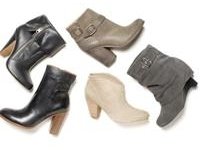 Contest Alert: $50 Shoes.com Gift Card Giveaway (plus the Winners!)
As summer comes to a close, we pause to celebrate Labor Day weekend which--despite its name--will be spent by most by kicking back and getting some much deserved rest. Last week's giveaway of a big bundle of luxurious beauty products compliments of
Cleopatra's Choice
will make one lucky winner's three day weekend even more relaxing.
Oh, and we're not only announcing the winner of the $300 worth of products, but our Community contest winner, Financial Blogger's conference ticket winner--and a new contest to boot!
Our first
Community contest
$250 Amex gift card winner is
ChuckG
who has accumulated a Double Rainbow Microphone, Double Rainbow Pencil, Diamond Thumbs Up and Silver Deal Heart. The winners of the $100 Amex gift card are
dpozzi27
and
orchidlady01
. We'll be announcing a new Community contest next week, so stay tuned to the blog for more details!
The lucky recipient of the
Financial Blogger's conference
ticket is Hunter Montgomery of
Financially Consumed
.
And out of over 150 entries the winner of the Cleopatra's Choice gift basket is
AStarrA
.
Congrats from the team here at Savings.com. We have sent you an email letting you know how to claim your prize--if for some reason it doesn't reach you, you have until the end of the day on Tuesday, September 6th to contact us at blog@savings.com or we will select another winner.
This week's giveaway is the ever-popular $50 gift card from our friends at Shoes.com. You can find shoes, sneakers and boots for men, women and kids by designers from
adidas
to
Zoo York
. If you don't need another pair of shoes (
who doesn't need another pair of shoes?!!
), they also carry handbag and apparel.
If you'd like to enter to win this $50 gift card, all you have to do is review our
contest rules
and comment on this post by the end of the day, Thursday, September 8th.
On Friday, September 9th, we'll announce the well-heeled winner!