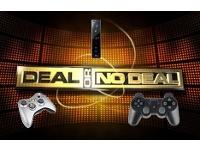 2012 Video Game Survivors Guide
All great explorers need a few key essentials when traversing rough terrain or exploring hidden pockets of remote nature. The same is true for any avid video game fanatic diving headfirst into the waters of a new year that promises to be a big one for gaming worldwide. Here now are the tips you'll need to not lose your wallet or your cool when deciding what games to escape into this coming year.
1. Don't be a beta tester.
I'm not talking about actual beta-testers who get paid to test all aspects of a game for bugs, glitches, and broken gameplay prior to a game's launch.
(Stop laughing. They do still exist.)
No, I'm talking about you, me, and everyone else who must have a game on release day. Those of us that line up to pick up our $60 pre-orders of the next great game of the year candidate, all excited to play the game of our lives only to spend the next two months waiting on patch releases and updates to fix a could-have-been great game that comes out of the box broken. To boil this tip down to its core: Wait a few weeks, or a few months.
Make sure that the hot new title you have been craving is actually playable before you spend your money on something that will collect dust for the first few weeks while you wait for the downloadable fixes to make it all that it should have been from the start. Some good sites to join or lurk to get solid community insight into new releases are
Operationsports.com
(
Sports Games, racing games, fighting games
) and
Gamefaqs.com
. Several members, as well as mods from these websites attend game publisher community events and receive hands-on previews of new releases. Bottom Line: Do your research; wait and see if it is worth your money right off the bat.
2. Switch to PC.
As an avid console fan, that last line was really hard to write. But with the increasing popularity of sites such as Steam, which offers huge discounts on new releases and services like OnLive, the question is: Would you rather pay $49.99 new for Saints Row: The Third or $59.99 for the console version (
Basically $10 extra bucks for box art and a useless 2 page guide.
)? Also purchasing Windows version digital downloads from online retailers like Amazon directly to your PC can save you anywhere between $10 and $15 on new releases.
3. Be a Smarter Console Shopper.
Of course, you don't need to switch platforms to save. So skip #2 and learn to shop better. Buy used when possible. Calculate the savings of buying a new game vs. a used one that also needs an online pass to access all of the downloadable content (DLC) and features.
Like a Swiss-Army knife of info, that's your basic, all-purpose starter to getting more out of your gaming dollar. Stay tuned to my musings on the Twitterverse
@SavingsGCapes
for more tips and tricks.