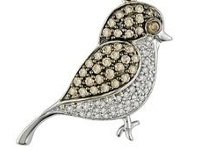 On the Third Day...
On the third day of the contest, Savings.com is giving away...a $100 gift card from our friends at Zales.
Zales has a nice selection of
Gifts under $100
--any of which would be more welcome than three French hens...
To be eligible to win the gift card, just post a comment below. You can enter all twelve giveaways (one entry per person per prize), but there will be only one prize per winner. We'll announce the winners of all the giveaways on December 24th. We've got nine more prizes coming up, so make sure to stop back every day to see what's next.
And make sure to check out our
Zales promotional codes
--just in case you DO need five golden rings...