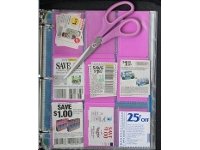 Coupon 101: How To Organize Your Coupons To Save The Most
Organizing your coupons can be more challenging than actually using them! However, taming that paper monster is crucial for for success. Here are three different methods to try.
1. The Traditional Binder Clipping Method
: Buy an enormous three ring binder and fill it with baseball card holders or clear pencil cases that zip. Organize your coupons by category, such as produce, health and beauty, canned goods, frozen, etc. I like to keep my binder organized by aisles in the store, so produce is first, followed by dairy, canned, pasta, cereal, etc.
Each week, clip the coupons you want from the grocery circulars and other sources such as coupons you find in the store. File them in your binder and remove any expired coupons. The advantages to this method are you always have what you need, ready to go. The disadvantages are it can take a lot of time! Some couponers enjoy this method because they can clip and file while watching TV at night.
2. The Circular Storage Method:
If you look closely at the Red Plum and Smart Source Coupons in your Sunday newspaper, you will see the date in tiny print on the spine in the upper left hand corner. Rather than clip any coupons at all, you can simply file and store your circulars by date. Some couponers keep them in hanging file folders, others just pile them in a box with the date written in sharpie on the front of each circular, still others file them in manila folders with the dates written on the front. Advantages to this method are that you don't have expired coupons gunking up your system. You simply go to your favorite coupon blog or website that lists matchups for your grocery store.You'll find a list of what is on sale, and what dates the corresponding coupons for those items were issued. Matchup lists are a HUGE timesaver!
(I personally prefer this method)

3. The Hybrid method:
Clip and file ONLY the coupons you know you will use and save the circulars in case you miss something and need go back and retrieve a coupon. This compromise method can be achieved without the use of a big binder. Many couponers use
The Couponizer
, an organizing system that includes everything you need in a small binder. The Couponizer also includes scissors, a carrying case and a clever mat that helps you stack and file your coupons by category.
There is no right or wrong way to organize, it simply depends on your personality! What is YOUR favorite way to organize coupons?