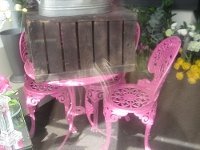 3 Ways to Repurpose Furniture for Cheap
Photo courtesy of AndyRobertsPhotos at Flickr.

The only new piece of furniture I own in my house is my mattress. Everything else is a hand-me-down. Not only have I furnished my entire house for less than $1,000, I'm saving the environment by reclaiming furniture that would have otherwise ended up in the trash. To make everything match and look nice, I have repurposed many of the pieces. I'm no handyman, but there are several ways you can repurpose furniture with little experience and without spending a ton of money.

1. Paint

A fresh coat of paint gives life to an old piece of wood furniture. You can paint the furniture to match the original wood or in any color you like, (I have a blue desk.) The major hardware chains sell samples of low-VOC paint for about $3.50 and its enough paint to finish most jobs. When you factor in the other supplies, like sandpaper and a paint brush, you can complete this project for less than $10.00

2. Upholstery

Reupholstering a piece of cloth furniture isn't as hard as it seems at first and you can finish small jobs with pieces of fabric you already have. For example, I recently reupholstered a desk chair using old T-shirts. I completed the project in a weekend, the only tool it required was a stapler and I saved money by using free materials I had on hand.

3. Replace Hardware

Sometimes the only thing wrong with a piece of furniture is the outdated brass hardware. Hardware stores and reclaimed furniture stores sell replacement hardware. As long as you find new pieces in the same size and shape, you only need a screwdriver to complete this project. Just look for hardware with one or two screw points (depending on the shape of the original hardware.) You can buy most hardware pieces for less than $5.00 a piece.

I've reclaimed an entire house worth of furniture using those three simple projects, but there are tons of other ways to repurpose a piece of furniture. What are some of your favorite ways? Tell me about it in the comments below.