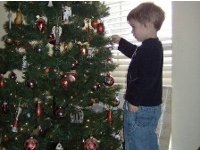 3 ways to start preparing for Christmas now
Do you still cringe when you think about how much you spent last year at Christmas? Have you vowed not to go over budget this year?
The best way to stay under budget on Christmas this year is to start preparing early. Waiting until the last minute almost guarantees that you will end up going over budget because you won't have time to devote to being a savvy shopper. Here are 3 ways you can start preparing for Christmas now.
1. Start making homemade gifts now:
Jams and Jellies
- Now is a good time to make homemade jam or jelly. Fruits are at their lowest prices and at the peak of freshness.
Balsamic Oils and Flavored Extracts
-
Homemade Vanilla Extract
is easy to make, but the beans must sit in the alcohol for 4 - 6 months. It is best to start food projects that need time for the flavors to meld early.
Craft Projects
- When you are working with craft materials like glues and paints, it is best to work in a well ventilated area. This is easier to achieve while the weather is still nice. You will also feel a sense of relief on Black Friday when you can stay home since your gift closet is full.
2. Start looking for second-hand items that can be repurposed:
Start looking at thrift stores and garage sales for item that can be used to create frugal gifts. One year I bought old ball gowns at a thrift store and used the fabric to create dress up clothes for my daughter. My daughter and her friends loved playing in her real silk play clothes, but it cost me less to make them than the price of one store-bought costume.
My dad found an old rocking horse at a garage sale and bought it. He rebuilt it, repainted it, and gave it a new main and tail. Then he gave the refurbished rocking horse to my daughter for Christmas. It is still a cherished gift that has been passed down to all of our kids.
Are there any items that you create that could be made by upcycling second-hand items? By starting your search for those items early, you give yourself time to follow through on your plans.
3. Start tracking the prices on gifts you want to buy:
Do you already have an idea for someone on your list? Start using tracking apps like
TrackIF
to watch for price drops. This will allow you to purchase the item at the lowest price. There is a camera that my husband really wants, but will never buy for himself, so I have started tracking it. When I find a great deal on it, I will pick it up and tuck it away. My youngest son enjoys Legos and Playmobil. I can find great deals on those items on Ebay because he likes "vintage" toys. But I don't want to have to search Ebay everyday for new listings, so I use TrackIF to track search results on Ebay for the items that he is interested in. This saves me both time and money.
Have you started preparing for Christmas yet?
Alea Milham shares her tips for saving money and time while reducing waste in her home at Premeditated Leftovers. She also shares the latest deals and coupons at Saving in Nevada. Her favorite hobby, gardening, is a frugal source of organic produce for her recipes.
(Source:
Savings.com
)