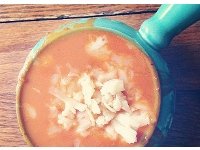 36 scrumptious Fall recipes from our DealPros
Nothing says Fall like a hearty homemade chili or a nice cup of hot chocolate. There is a plethora of recipes available online and, if you're an addict like me, on
Pinterest
as well. So how do you narrow it down to what you should actually try?
For Fall menu planning I try to stick to what I know, and add at least 1 new recipe that I don't know into the menu circulation each week. This makes it super easy to plan meals, and try new things.
If you haven't really menu planned before, an easy way to start is by making a list of your top 15 favorite dinner ideas and rotating those throughout the month. Then there's room to add in new recipes that you'd like to try.
Here's a list of 36 great Fall recipe ideas from the awesome Savings.com DealPros. Check them out and let us know if you know of any great Fall recipes that we should try!

Breakfast RecipesChili & Soup RecipesPumpkin RecipesApple & Bread RecipesHearty RecipesSnack Recipes
These recipes look amazingly yummy for Fall! Do you have any great Fall recipes that you enjoy? Tell us about them!