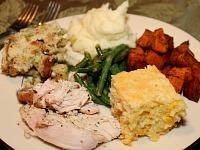 4 Thanksgiving Day entrees for under $15
It is possible to pull off a Thanksgiving feast while on a budget. You know there will be great sales on turkeys, but what about the side dishes? The key to saving money on your side dishes is to do what the participants of the first Thanksgiving did: cook them from scratch using whole ingredients. A side benefit is they may just be healthier than what you are accustomed to finding on the buffet table.
Use the Favado App to look for deals in the produce section of your local store. Raw vegetables are going to be less expensive per pound than processed foods.
Buy in-season vegetables. They are going to be at the peak of freshness and at the lowest price because they are plentiful. Consider replacing one of the entrees you normally serve with broccoli, Brussels sprouts, winter squash, or spinach. You may just create a new tradition.
If you want to serve an out-of season vegetable, buy them from the frozen food section. Frozen vegetables are frozen at the peak of freshness and can regularly be found on sale.
4 Thanksgiving Day entrees for under $15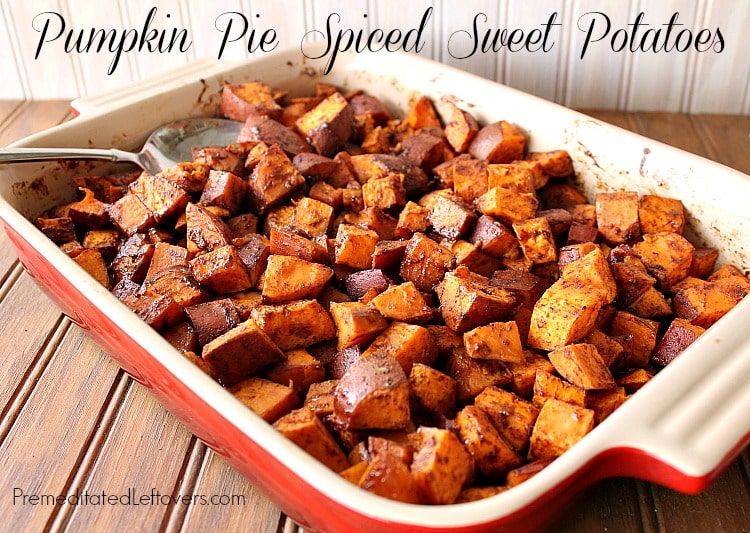 This recipe for
Pumpkin Pie Spiced Sweet Potatoes
recipe serves 10 - 12 people and can be created for less than $3.00 by combining raw sweet potatoes with common pantry staples.
Succotash is a traditional Thanksgiving entree. Erin creates her
Succotash with Butter and Dill
for $1.20 buy taking advantage of sales on frozen vegetables. You may need to double this recipe if you are having a large crowd.
You will easily find sales on potatoes at this time of year. You can often find a five pound bag of potatoes for $0.99 and you may even be able to score a ten pound bag of potatoes for $0.99. That means you can splurge and create
Twice Baked Potatoes
for everyone at Thanksgiving and still come in under $2.00.
I recently found green beans on sale for $0.99 a lb. However, even if green beans are not on sale in your area, you can make enough
Oven Roasted Garlic Green Beans
to feed a crowd and only spend $3.00 - $4.00 by using frozen green beans. Thaw the green beans by running them under hot water, then pat them dry and use them as the recipe directs.
Not everything is less expensive to make from scratch. You will be able to pick up a can of cranberry sauce and a box of stuffing for less than you can make them yourself, but if you are saving money on your other entrees, you may just decide to splurge and make homemade cranberry sauce and stuffing too.
Alea Milham shares her tips for saving money and time while reducing waste in her home at Premeditated Leftovers. She also shares the latest deals and coupons at Saving in Nevada. Her favorite hobby, gardening, is a frugal source of organic produce for her recipes.
(Source:
Savings.com
)