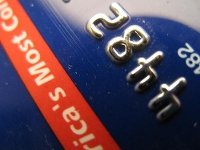 4 Ways to Protect Yourself against Credit Card Skimming
Photo credit The Consumerist
The
practice of skimming
is nothing new; in fact, we've blogged previously about the dangers of this fraudulent practice. That it's occurring with such force in stores like Lucky's, however, is a bit more than shocking this time of year.
Up to 24 stores in the supermarket chain
were discovered to have the skimming devices installed where customers swipe their card, resulting in over 500 potential theft cases.
While there is no way to know which stores will be hit next, there are some effective measures you can take to safeguard your credit and debit accounts against skimming thieves.
Avoid card machines that appear to be flawed. If a card reader jams, seems abnormal in some way, or is different than the last time you used it (but the cashier hasn't acknowledged an equipment upgrade), feel free to skip that lane. You can ask for a cashier to use the "behind-the-counter" card reader, if that makes you feel better.


Be wary of self-checkout. While there's nothing wrong with these types of convenience lanes, they are less guarded than those staffed by cashiers--making them a likely target for skimmers to strike. Likewise, if you are new to the self-checkout scene and want to be doubly sure that an awkward scanner is the real deal, go with a staffed lane instead.


Reconsider debit vs. credit. While having the cash drawn directly from your account via a debit card may seem like the more fiscally responsible way to pay, it also leaves you more vulnerable to theft. Credit card issuers offer a longer window to dispute claims on a credit accounts and many have a 0% fraud policy; you pay nothing if the charge isn't yours. Debit cards, on the other hand, may carry a fee or require you to pay the first $10-50 in fraudulent charges before the card issuer foots the bill.


Always, always check your statements. Many people who shopped at Lucky's may not have even known they were a victim--until they saw it all over the news, that is. Checking statements for strange charges is a practice not everyone is diligent about, and many more wait the full month before their next statement comes in the mail (a wait that may prove to be costly.) If you have access to online banking, check in with your accounts at least weekly, and if you go on a big shopping trip with multiple stores, consider looking up your account the day after you get home. Timely tactics work best in matters of fraud.
As the Press Democrat recently stated, customers have been urged to
close accounts associated with the skimming incident
.


Would you go to extremes if your account had been compromised--especially during this busy shopping season?