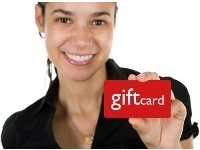 4 sites to buy discounted gift cards
Sometimes it's easier to buy a stack of gift cards and pass them out to family and friends than go to the mall and fight the crowds. It really depends on your personality and how much patience you have.
The fact that gift cards are almost anywhere offers the immediate convenience to any shopper who dreads shopping. You can find them at your local grocery store, drug store, favorite pizzeria and more (
you name it, they probably have some
).
Just like buying holiday gifts, the costs can add up very quickly. If you're on a budget, buying gift cards might not sound like the perfect solution for you ... but wait ... can you buy a gift card at a lesser price? The answer is yes. There are sites that are dedicated to helping you sell, buy and exchange unwanted gift cards for less than what it's worth. BINGO! (
ding-ding-ding-ding-ding
).
Here are four gift card sites that will help you save money:
It's great to know that a variety of sites are dedicated to buying and selling discounted gift cards. In a way, it's like getting free money. You can finally buy gift cards for less and sell unwanted ones that were stashed in some random drawer.

Like shopping in stores, do your research (I found similar discounts from site to site, but I wouldn't have known unless I did my research). The look and feel of the sites are very different, so try to buy from a site that is user-friendly to you (not to someone else, but you). Another big thing is customer service. It can make or break or deal. If you aren't sure about the legitimacy of the company, call before you make the purchase. You'll instantly know if you have a winner or loser at hand!

Happy gift card shopping to you!

(Source: Savings.com)