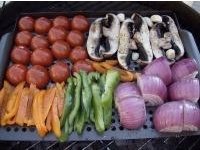 4 ways to maximize the use of your grill this summer
Do you light the grill just to barbecue a pound or two of meat? While that may be all the meat you require for dinner, you could maximize the use of your grill to save you time and money.
Once you have taken the time to heat your grill, you might as well use it to its fullest to cook meat, vegetables, and even desserts to use throughout the week.

1. Batch Grill. Look at your menu for the week. How much of the meat on your meal plan can you barbecue in advance? It takes the same amount of time to cook 5 pounds of chicken as it does to cook one pound of chicken. You can save time on busy week nights by batch grilling meat on the weekend to use in recipes through out the week. If you can't use that much meat in a week, package it up in useable portions and freeze it. You can pull it out on a hectic night to make a quick salad or quesadillas instead of ordering out for pizza.

2. Grill your Vegetables. Keep your kitchen cool and cook your entire dinner on the grill. You can grill a side dish or two while you cook your meat or you can batch grill vegetables to use throughout the week. Most vegetables can be cooked in the same amount of time it takes to barbecue your meat.
3. Think outside the oven! Modify your favorite recipes and create a version that can be prepared on the grill. The possibilities are as limitless your imagination.
4. Grill Dessert! Why stop with dinner? Take advantage of the last bit of your coals by making dessert on the grill. S'mores are awesome, but there are many other delicious recipes you can make on the barbecue. You can grill fruit in minutes and it is delicious when paired with ice-cream.
By utilizing your grill to the fullest, you can save time, money and keep your kitchen cool.
Alea Milham shares her tips for saving money and time while reducing waste in her home at Premeditated Leftovers. She also shares the latest deals and coupons at Saving in Nevada. Her favorite hobby, gardening, is a frugal source of organic produce for her recipes.

(Source: Savings.com)