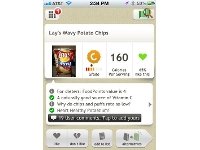 5 Free Apps That Can Help You at the Grocery Store
Ever wish you could get in and out of the grocery faster, easier, and maybe even smarter? You can, provided you're packing your smartphone.
I've rounded up five apps that can seriously simplify your shopping experience. They're all available for both Android and iOS (some work with other platforms as well), and they're all free!
Cozi
A must-have for busy families, Cozi keeps a shared calendar in sync between everyone's PCs, phones, and tablets. But it also features a shopping list that any family member can add to. Translation: When you notice you're out of milk, you can add it to the list; when your spouse is at the store, he/she will see it! Cozi is the single best app you're not using.
Fooducate
You know you're supposed to read food labels, right? But how can you interpret them without a degree in dietetics? Here's how: Fire up Fooducate and point your phone's camera at any product barcode. In seconds you'll get a wealth of information about that food: the number of calories, what makes it especially healthy or unhealthy, and a letter grade. You can even see a list of alternatives that have better grades.True to its name, Fooducate can really educate you about the foods you're choosing.
Grocery Pal
This amazing app finds the sale items for over 100 supermarket and drugstore chains, from Albertsons to Walmart. Just choose a store to see what's on sale that week. Even better, you can browse digital coupons and add them to your loyalty card, so they''ll get deducted automatically when at the register.
Key Ring Reward Cards
If your wallet is anything like mine, it's overstuffed with loyalty cards from your neighborhood grocery stores, drugstores, and the like. Key Ring makes those cards digital; just scan their barcodes using your phone's camera and presto, they're stored in the app. It also serves up coupons for local stores and can digitally save them to your cards (much like Grocery Pal).
Pocket
Here's a common scenario: You're browsing your favorite recipe sites when you come across something perfect for dinner. You'll need to take the recipe with you to the store, of course, which usually means jotting it down or printing it. A better way: click the Pocket bookmark button, which automatically clips that Web page to your Pocket account. Then load up the Pocket app on your phone, and presto: there's the page, perfectly formatted for your phone's smaller screen. It's literally a one-click solution for making recipes mobile.
Have you found an app that can help you at the grocery store? Tell me about it in the comments!