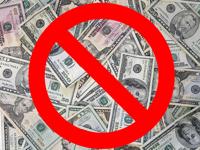 5 Simple Ways to Stop Spending Money
Times are tough right now, and everyone is looking for ways to pinch pennies. While it's important to carefully manage your
credit cards
, that's just the tip of the iceberg when it comes to smart spending. Here are five friendly suggestions to ease your budget woes:
1. Ask for a discount
Haggling isn't a cultural norm in America, but that doesn't mean it never works. Give it a try, and you might be pleasantly surprised! Call up your Internet provider or
insurance agent
and ask if they can lower your bill. They might say no, but lowered bills are not unheard of, especially if you've been a good customer. Sometimes, smaller retailers offer discounts when you ask, especially if you're willing to buy a bigger quantity or find a defect. And many big chains, like
Walmart
,
Staples
and
Home Depot
, offer price match guarantees so if you find the same item cheaper at another store and can prove it, they might be willing to cut you a deal. Remember to be courteous, not shy!
2. Buy it later, or buy it used
Arguably, one of the best things about living in a consumer-oriented society is the wide range of quality used products to choose from, since people seemingly rush to the newest version before the old ones are even touched. An mp3 player is still an mp3 player, even if it's not the latest and greatest. If you're planning to make an expensive purchase, consider buying a gently used or older version of the same product. So many people want the latest version that older versions are often heavily discounted, even if they're brand new! And if you're okay with buying something used, start by asking around. You might be able to get what you need from a friend, or buy it from someone on an online community message board, like Craigslist.
3. Cut out the cable

Tired of paying all that money for a cable subscription? If you can stand to wait a little longer to watch the newest episodes of your favorite show, get a Netflix or Hulu account. It's also worth checking out networks' websites, since many of them offer streaming episodes too. Fox, NBC and FX, just to name a few, all offer streaming versions of their shows for free!
4. Make meals at home

If you're looking for an easy way to cut your food budget and live a healthier lifestyle, start by making meals at home, and packing your own lunch for work or school. Recipes for quick, easy and healthy meals are all the rage, so the possibilities are endless. Sure, cooking takes time, but when you compare it to time spent sitting in your car at the drive thru, or waiting at a restaurant, it's about the same. If you hate cooking, you can still save a good chunk of change by bottling your own water or brewing your own coffee.

4. Stick to your budget

Avoid all those pesky interest fees by paying your bills on time. And don't forget to track your expenses! It's hard to stick to your budget when you don't even have one. Start by making a list of your monthly expenses and comparing that number to your income. If things don't add up, it's time to cut something out. Record all your expenses in a spreadsheet. You can even sign up online for a free expense tracking service like Mint, or download free software to help you out. CNET offers free downloads of CommonCents, AceMoney and Home Budget to get you started.

When you're making your payments, stay smart! Sticking to your budget also means staying below your credit limit. This will help you avoid late fees, and it also helps your credit score. If you're worried about going over budget, make purchases with your debit card. You may be tempted to load cash onto a prepaid debit card, but it's better to use the one that comes with your checking account (if you don't have one, get one!). Prepaid debit cards come laden with a ton of extra fees, many of which aren't obvious up front.