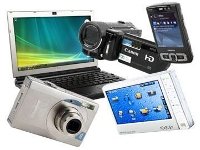 5 Ways to Make Quick Holiday Cash
Christmas is less than six weeks away (yikes!) and if your bank account isn't what it used to be, then it's time to make some quick holiday shopping cash. Here are five ways to put some money in your pocket so you can leave the credit cards at home.
1) Get rid of your dated gadgets. If you've got an old MP3 player,cell phone or digital camera taking up space in your junk drawer, check out Gazelle.com. Enter a few details about your gadgets and instantly learn trade-in values. Gazelle.com pays for shipping and you'll get your money in a week. For cell phones-only, try CellforCash.com.


2) Sell back your old books. At Cash4Books.net just enter the ISBN number for each book you want to sell (check the back cover) to see how much each is worth. Textbooks, non-fiction and business books are most in demand. Get a check or deposit to your PayPal account in about a week.
3) Cash in at cash-back shopping sites. Online-only sales are rampant across the web this holiday season so why not make a few bucks while picking out gifts. Ebates gives you back a percentage of your purchase and is doubling cash back when you buy from select online retailers, including Walmart, The Body Shop and Victoria's Secret. As an added bonus, new sign-ups get a $5 bonus. Two more cash-back sites are ShopAtHome and Cashbaq.
4) Sell back your gift cards. Gather up your used and unused gift cards (that you don't plan to use) and sell them back at Swapagift.com or PlasticJungle.com.You'll get back 60 percent or more of the card's value.
5) Cash in your coins. If you're like me, you've got a stash of coins somewhere in your house ready to be turned into bills, so take them to a Coinstar machine by December 6. Cash in $40 in coins and get $10 free by mail-in rebate. Get your money as a gift card (required for this offer) to avoid the coin-counting fee.
Do you have any other great ideas for making fast cash this holiday season? Let me know! Or for more money-saving tips and tricks be sure to check me out at Coupon Cravings.