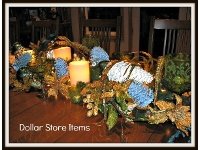 ThriftyNWMom.com
5 beautiful table settings on a dime
Here are 5 table settings you can make on a budget that are fun for fall, but can be modified and used year round!
1. DIY Candy Jars.
Do you have a small side table, or the corner of a buffet table you are looking to decorate? How about these DIY Candy Jars. We found three separate candle holders we had around the house. one was wood, and the other two were both different colors. We unified them with a can of glossy black spray paint (
we were decorating for Halloween, but you could use any colo
r). We then cleaned out an old pickle jar, pasta sauce jar and mason jar in our fridge and painted their lids black. We attached them to the bases with Gorilla Glue and added candy. You could paint yours white and add pastel candy, or nuts and dried fruits for a different look.
2. Use items you already have around the house in a new way.
Used coffee cans make great rustic vases. We make our espresso with Bustello espresso, and its yellow and red colors make for a fun fall container. I grabbed a discount bunch of flowers, but you could also buy a small pot of mums this time of the year to put in it. We recently celebrated a birthday at the Ram brewery, and one ordered this pint of beer. I now use it for a fun container for flowers. Because the opening is small I can usually find some wild flowers to fill it with, keeping my flower budget minimal. You can also choose pitchers and containers for your beverages, that can double as beautiful vases when not being used to hold lemonade or juice!
3. Shop for your centerpiece at the grocery store.
I love this idea, because not only is it an affordable way to add a splash of color to your table, but you can also use the items you are decorating with, so in the end its part of your food budget! Lemons, limes and oranges are fun options. Other things you can use would be pomegranates, whole nuts. coffee beans (
add a candle in there with these and it smells great
) and multicolored dry beans (
again add a candle for a fun centerpiece
).
We grabbed a pineapple when it was on sale for $1 this summer and added it to a hurricane glass above, and apples and oranges in glass containers for the center of our kitchen table. You can use those orange peels for candle holders. We cut oranges in half, and removed the orange. Then we used kitchen scissors to cut a jagged pattern across the top. Put them into a candle holder, and add tea light candles. All of these centerpieces will be perishable, but are fun for a time!
4. Make a centerpiece from items you can find at the Dollar Store.
Most of the items used in the centerpiece below can be found out the dollar store. Layer flowers, leaves, feathers and pine cones. When you are at the Dollar store look for piece in the right size and shape for your centerscape. Ignore the color, as a can of spray paint can fix that. We like to use glitter spray paint, and add some tea-light candles in holders and pillar candles for lots of glimmer and romance. You could also use regular spray paint and add glitter afterwards with some spray adhesive too. Raid your cupboards for the rest (
use margarita cups for tea light candle holders, or pull out some Christmas decorations early to add in for some glitz
). The key to this centerpiece is layering.
Start at your local dollar store, and then see what you have on hand at home. Unite it all by using 2 or three colors only, adding light and different heights and some sparkle, and you are sure to impress!
5. Look to your backyard or local nature trail or farm for inspiration.
Ferns can be purchased, but they are also an item you can often find for free in the woods. They can be used singularly (
use one in small containers like old antique glass bottles
), or showcase a large potted fern in a rustic basket or wooden box. Collect pine cones and throw them all into a box. Spray with some cinnamon spray this time of the year to make the house smell good. Use a carved out pumpkin for the vase of an outdoor arrangement. Throw dried cornstalks into a tall vase for a fall arrangement with lots of height! Your imagination and access to nature are your only limitations here!
Sia Hills is a Savings.com DealPro and co-founder of website Thrifty NW Mom, a one-stop resource for ways to save money all around the Pacific Northwest.
(Source:
Savings.com
)