5 Cool Ways To Spend Your Tax Return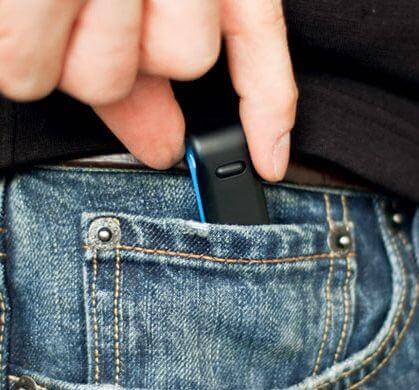 It's tax time, and that can only mean one thing: a big, fat refund check. (Well, okay, it might mean a big, fat payment check, in which case this is probably not the post for you.)
Sure, you could put that extra cash in the bank. Or use it to pay bills or buy food. BO-RING! Wouldn't you rather treat yourself to a new gadget — especially if it's one that can save you money, improve your health, or encourage you to read more?
I've rounded up five way-cool gadgets that are perfect for tax-refund splurging.
Still working to keep that New Year's weight-loss resolution? The Fitbit can help. This tiny, unobstrusive "wireless activity tracker" clips to your shirt, pants, or wherever, then keeps tabs on your steps taken, calories burned, floors climbed, and distance traveled. Then it syncs all that data to the Web, where you can track your progress with super-cool stat tools.
The Fitbit also promises to monitor your sleep patterns, though it's received mixed reviews on that front. As an ultra-high-tech pedometer, however, it's widely regarded as the best thing since sliced low-calorie bread.
The gadget lists for $99.95, but Amazon sells it for about $10 less.
So you bought a 3D-capable HDTV — now what? You need content, that's what. The BD670 has two 3D aces up its sleeve: it can play 3D Blu-ray movies (3D-BlurayRental.com is good place to rent them), and it can stream movies from Vudu — one of the few online services that offers 3D versions of popular titles.
I bought this model not long ago, and so far it's been great. The BD670 has a list price of $199.99, but sells for $99 at Amazon.
Looking to cut that pricey cable-TV cord? You can still watch many of your favorite shows absolutely free, and in high definition — provided you connect a decent antenna to your HDTV.
The Mohu Leaf is one of the top-rated indoor antennas available. It has a list price of $49.99, but it's currently on sale for $35.99. And if you apply coupon code APRILFOOL at checkout, the price drops to $29.99. (Note that to use the coupon, you need to purchase directly from Mohu's Web site.)
Who would have thought a thermostat could be so, well, sexy? And not just in its looks, though the Nest definitely turns heads with its domed glass front, mirrored barrel, and color screen. No, it's also sexy because it's smart, sensing when you're in or out of the house and adjusting the temperature accordingly.
Cooler still, the Nest connects to your Wi-Fi network, thus allowing you to monitor and control it from afar using your tablet or smartphone.
At $250, this gadget is definitely a tax refund-buster — but Nest says you'll recoup that investment within two years. And that's exactly what this is: an investment in saving energy. Like I said: sexy!
Amazon's Kindle Fire tablet is already a good deal at $199, but it's even better at $169. That's the price for a refurbished Fire, which is identical to a new one in every way that matters. It looks like new, functions like new, and comes with a one-year warranty — same as new.
I've been using mine not just for apps and e-books, but also for reading magazines like "Entertainment Weekly" and "Time." The app versions of these periodicals look great on the Fire, and they're free if you're already a subscriber to the print editions.