5 secrets to shopping at Rite Aid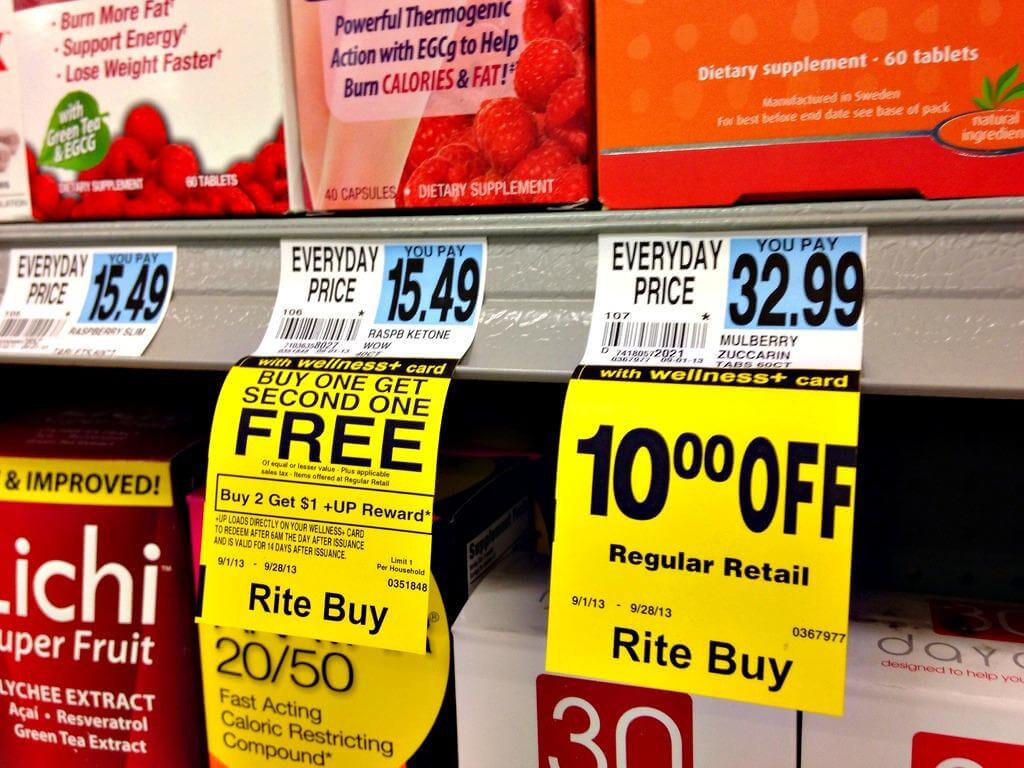 If you have been couponing for any amount of time, you know how much you can save by shopping at drugstores. CVS is usually the go to store because it's very easy to shop at. The rules at CVS are pretty straight forward and there aren't to many surprises. However, Rite Aid is a drugstore that you can save a ton of money at! Shopping at Rite Aid is a little more difficult at first, but if you learn the secrets you will be a pro in no time at all. Once you know the in's and out's of shopping at Rite Aid you will absolutely love shopping there!
Today I'm breaking down the 5 secrets to shopping at Rite Aid!
1. Single Rebate Checks
Often times you will find that certain items offer a single rebate check. So what this means is if you purchase the item, you will get a check in the mail for the listed rebate amount.
Example: An electric shaver is priced at $39.99 and has a $15 single check rebate. If you purchase the electric razor, you will get a check in the mail for $15!
Using the single check rebate program is a great way to score an awesome deal! Once you have purchased the item, you will go to the Rite Aid site, log into your account and browse the rebate items. Once you find the item you purchased you will enter the receipt information, click enter receipt and you will get a message that says your information was received. You will typically receive your check within two weeks.
2. Video Values
Video Values are another great way to rack up the savings and the process is pretty simple. In order to take advantage of Video Values you will need a wellness+ account. If you do not have a wellness+ account you can sign up for one in store or online.
Once you have your wellness+ account set up you can visit RiteAid.com and look for Video Values. You will watch a few short videos in return for coupons that can be redeemed at Rite Aid. The videos are typically very short (under 30 seconds) and there are videos for a wide variety of products. The videos do change out monthly, so make sure to check in every month.
3. +UP Rewards Rules
When you receive an +UP Reward you can use that reward towards another purchase. However, there are some rules you should be aware of before using your Up+ Rewards.
When you receive your +Up Rewards you have to wait until 6am the following day to use them. You are also not allowed to do back to back transactions in an attempt to roll your rewards. These rules can make it a little harder than other drug stores. However, with strategic planning you can still save a lot of money and take advantage of great sale prices.
4. Using Load2Card
The Load2Card program is pretty awesome and very easy to use. You simply log into your wellness+ account and you will be given the option to load coupons right to your wellness+ card. You can also view all of the coupons you have loaded and track when they expire! The best part is you do not have to print these coupons out. When you are at the register the coupon will automatically scan when you use your wellness+ card or phone number. This is a great way to get some additional coupons and save even more money.
5. Wellness Rewards
Did you know you can save at Rite Aid without even using a single coupon? By shopping at Rite Aid and using your wellness+ card you get points which you can later redeem. Once you get 500 points you can redeem those points for a variety of different things, including a $25 Restaurant.com gift certificate. Redeeming your points is very easy, you just log into your wellness+ account, locate the wellness reward you would like and then select that reward.
You earn 1 point for every non-prescription purchase and 25 points for every prescription that is eligible.
Do you have any secrets to shopping at Rite Aid?
Melissa is a wife of an Emergency Room nurse, and a mother of a sweet and smart little boy. Her website This Mommy Saves Money, allows her to share her love of couponing and helping others save money. Other hobbies include: nature photography, exploring national parks, cooking, and volunteering.
(Source: Savings.com)