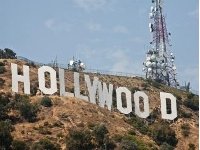 5 things to do for free during your Los Angeles staycation
When I think about taking a vacation, I dream about sipping a cocktail on the tropical islands of Hawaii or going up to the top of the Eiffel Tower in Paris and sharing a sweet kiss. Did I say dream?
Not everyone has all the money or time in the world, so in recent years stay-cations have become very popular. The fact that you don't have to spend on hotels, car rental or even on food are all attractive qualities and reasons to have a staycation.
If you're local to Los Angeles, you really don't have to leave this city to have a good time. You can get all your historical, tropical and adventurous fix here (
remember, people come to vacation here from all over the world
). Here are 5 things you can do for free or almost free during your staycation:
1. Beaches -
We have some of those most beautiful beaches in the nation. Stick to beaches that are north of Malibu or South of Huntington Beach to get the crystal clear waters of the Pacific Ocean. My family and I frequent
Rincon Beach Park
in Santa Barbara county. While it is a public beach, it feels more like a private beach. You'll see many surfers trying to catch a wave and others taking a stroll on their horses ocean-side.
Cost: Free.2. Museums
- Whether you have kids or not, planning a day at the museum is not only fun but educational. We have so many museums in this great city and we don't have to pay penny to get entrance into them. Here are some that you need to check out:
3. Studio Audience - If you're near Hollywood, why not engulf yourself in the entertainment world? Choose your favorite shows from sites like TVTix.com or TVTickets.com to attend a taping for free. If you're a fan of Ellen or Dr. Phil, you can get tickets directly from their websites. Cost: Free.

4. Hiking - Not only do we have beautiful beaches, we have really beautiful mountains. In my neck of the woods, we are blessed with the beautiful Santa Monica mountains that stretch from the Hollywood Hills all the way to Point Megu in Ventura County. The trails are beautiful with some overlooking the Pacific Ocean and you even get a chance at discovering waterfalls. Pack some snacks, food, water and make it a day of scenic adventure. Cost: Free.

5. Hollywood Walk of Fame - Yes. Be a tourist in your own city. This can be a very fun event for your family. Prior to going, make a list of stars that you like and make it a goal to find those stars and take pictures next to it. I would suggest going on a weekday to keep the crowds at a minimum. Cost: Free.

Rather than dreaming about your next vacation, start planning your next staycation. You spend less money and still get the vacation fix. Learn more about your city and support the local businesses near you. I'm taking my next staycation in about a month!

(Source: Savings.com)