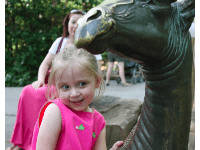 Savings Secrets: 6 frugal activities to do with the kids during Spring Break
Spring Break is happening over the next couple of weeks around the country, and it's unfortunate that a lot of us probably won't be heading down the beach for a vacation. More than likely, we'll be entertaining little ones all week and it will feel like anything but a "break."
Here are a few tips for frugal activities you can plan with the kids this week to keep them entertained.
1. Get a City Pass to see the local attractions.
Depending on your city, you can save as much as 52% by purchasing a City Pass to see local hot spots. For example, in Atlanta you can see 5 of the big attractions (World of Coca-Cola, Georgia Aquarium, CNN Studio, Zoo Atlanta or Atlanta History Center, and Fernbank Museum or High Museum of Art).
2. Use the Daily Deal sites to find fun things to do locally.
Something as fun as mini-golf would be a fun day event, and those types of deals regularly go up on sites like Groupon, Living Social and more.
3. Plan a picnic and day trip to a local historical landmark that is free to visit.
Wikipedia has a huge list of of
Historic Landmarks categorized by State
. Trips like these are inexpensive and educational!
4. Have an impromptu Spring Break party for your other friends with kids
. You can all get together and lounge around while the kids all play together.
5. Plan a Treasure Hunt.
Start at the end with a cool prize (preferably something that will also entertain them for a while like a new game), then leave clues for the kids to find. They'll have a blast while having an adventure.
6. Play dress-up and put on a fashion show.
I always had a blass opening my dress-up bin when I was a kid. If your kids don't have one of these, this Spring Break is a fun time to get them one! Head to the thrift store and it's easy to get various dress-up clothes for inexpensively.
What are some of your favorite activities to do with the kids?

Crystal Collins is an Atlanta local, adventurer, a health advocate and thrifty as can be. Check her out on her blog at
TheThriftyMama.com
.

(Source:
Savings.com
)