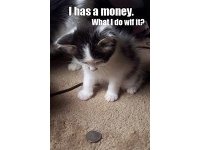 Herding Cats: Our Favorite Savings Stories for the Week of July 19
It's Friday, and that means it's blog round-up time! Our favorite blog posts and articles this week have to do with jobs...finding a job, quitting a job, secret jobs, etc. So if you're in on the job market, thinking of changing your line of work, or if you just want some good reading, check out the links below.
SavvySugar: I'm Asking: What Type of Job Will You Search For Next? - According to a poll conducted earlier, a shocking number of SavvySugar readers said they'd be looking for a new job once the economy recovers. In this post, SavvySugar asks readers what type of job they'll be hunting for when economic recovery is underway. Check out the comments to see what people are saying.
frugaldad: How to Quit a Job - Millions of people are unhappy at their jobs. No secret there. Take the movie Office Space, for example. You can't tell me you've never wanted to beat the hell out of the office fax machine. In any case, this guest post from Steven of HundredGoals.com gives you five things to keep in mind when you're thinking about a change in vocation.
MainStreet: Leave Your Job Without Burning Bridges - Jason Fitzpatrick of Lifehacker explains the importance of leaving your job amicably, even if leaving isn't your choice. This post includes eight things you can do to leave on a good note with your former bosses and coworker--those relationships could come in handy down the road!
MainStreet: 4 Ways to Make Money on a Day Off - This post by Stacy Baker gives you four interesting ways to make money on your days off. From using your passions to make a profit to raising money for charities, there are plenty of ways to make some scratch on your off time.
Bargaineering: Three best Kept Secret Jobs of 2009 - In this post, Bargaineering blogger Jim Wang talks about three very interesting jobs that command a pretty killer annual salary. If you've got a nose for good fragrances, an ear for accents, or a sixth sense for predicting the future, you could be pulling in the big bucks.
Not Made of Money: Working from Home Ideas - How great would it be to wake up, roll out of bed, put on a slightly nicer pair of sweats (that is if you feel like dressing up) and start working? Well, that dream could be a reality if you decide to take up one of the three work from home job ideas in this post.
WalletPop: How to Get a Temp Job when Employers Aren't Looking for Temps - For new college grads, finding a job in your chosen field isn't as easy as you might think. This post on WalletPop by Zac Bissonnette talks about how to get a temporary job with a company that isn't looking for a temporary employee. There are no guarantees with this method--but it might help you with negotiations with a potential temporary employer.
The New York Times: Hard Times Are Jamming the Ashrams - If you've recently been laid off or just need an uber-relaxing vacation, this NY Times article is a must-read. A recently laid-off fashion industry worker, a former Intel employee...these are the types of people escaping to the getaways talked about in this article. Yoga and Sanskrit classes? Sign me up!