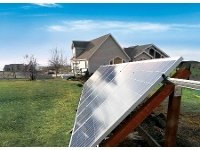 8 solar energy projects you can do on your own
Photo: Gary Reysa
With Winter fast approaching, it would be easy to get the Winter blues while looking at those heating and electric bills. Have you ever thought about solar energy? Most of us have, but we automatically assume that it's expensive to get started.
If you're able to put on that DIY cap, then it can actually be very budget-friendly to get started. It just takes some creativity and some awesome instructions from people that have gone before us. Check out some of these cool DIY solar energy projects that you can do on your own:
1. This
DIY solar-powered iPhone charger
will take you three hours to make.
2. Need more heat? Check out
this solar-powered heater
that costs next to nothing to make.
3. While this is more of a Spring and Summer project, you can make your own
solar-powered lawn mover
to keep that grass well cared for.
4. How about some emergency preparedness? Make this
DIY solar-powered radio
for just $3 with an altoids tin!
5. If you're looking to make your own dehydrated food (great way to make food last longer!), you can do so in
your own DIY food dehydrator
powered by the Sun!
6. If you're ready for a larger scale project that will really save you some big money, then perhaps you're ready to make your own solar panels for your home's electricity. Check out
how to make your own
on Mother Earth News.
7. Lamps? Yes! You can
make your own solar-powered lamps
. Have them sit in the sunshine during the day, and then you have light at night.
8. Still looking for more?
This site
has hundreds of projects from changing a light bulb to building a solar home.
Have you done any of your own DIY solar energy projects? Tell us about them! And if you have any cool DIY instructions you've found online, please share! I've got a
Pinterest board
dedicated to solar energy projects and I'm always looking for more to add to the board!
Crystal Collins, a Savings.com

DealPro, is an Atlanta local, adventurer, a health advocate and thrifty as can be. Check her out on her blog at
TheThriftyMama.com

.

(Source: Savings.com)