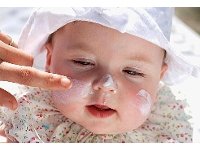 A Review of the Five Best Sunscreens that are Safe for Both You & Your Child
It's that time of the year again. The kids are on summer break, the weather is hot and you are doing more things outdoors. So what does this mean? More exposure to the sun.
While the sun is always out 365 days a year, it seems that exposure to the sun increases in the summer months. And the most dangerous hours to be out in the sun is between 10-4pm. I don't know about you, but that's a huge chunk of time that my children want to do all things outdoors. Whether it's swimming, taking a small trip to the beach, running around in the park --it usually falls between those hazardous hours.
So how do you decide what sunscreen will be the best one for your child?
While staying indoors is the ideal situation, that's not possible for most children and probably not the most healthiest option. If you decide that you are going to be outdoors during those hours, it's best to get a great all-in-one sun protection. And for infants under 6 months of age, it's recommended that they don't have any sun exposure and that sunscreen should not be applied either.
Acronyms like
SPF
,
UVA
and UVB can make the process of choosing the right sunscreen overwhelming. No need to worry, read Amy's post about
new FDA sunscreen regulations
, where she takes out the gibberish in sunscreen and breaks it down so that you understand what everything means.
Then check out
EWG's Skin Deep Cosmetics Database
(
my go-to place before I buy anything skin-related
), then it's time to hit the stores or check out the products online. I personally suggest you go to the stores because more than likely you can test out the sunscreen to see if you like how it smells and feels on the skin (
Whole Foods always has a tester
).
If you don't have a list yet, I have five sunscreens that you can't go wrong with. They all have an EWG Skin Deep safety rating of 1 or 2 which means they're very safe to use, an SPF over 30 and most importantly, they offer effective protection (
I've tried all of them
).





Finding the right sunscreen takes research and some trial and error. Not everyone like the same texture, smell, or how it looks on. If price is a factor, buy a good sunscreen for less on sites like
Amazon
and
Drugstore.com
(
they always have great markdowns
). Make sure you and your children are protected this summer!
What sunscreens do you like or don't like? Does the white cast from physical sunblocks bother you?