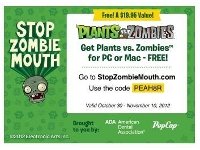 A cheap, sugar-free alternative to Halloween Candy: A free PC game!
Don't feel like spending $20, $30, or more on Halloween candy that's just going to contribute to tooth decay and childhood obesity?

As a parent myself, I feel your pain. And yet you don't want to be that lame house that hands out stickers or toothbrushes, right?
How about this: Hand out a mega-popular $20 computer game instead.
Just head to StopZombieMouth.com (zombie mouth -- get it?) and click the Get Coupons button. You'll see a page with eight colorful coupons you can print, clip, and hand out; each one is good for a Plants vs. Zombies download.
No doubt you'll need more than eight coupons, so print as many copies of the page as you need. Your only cost: a little paper and ink.
The site also has various family-friendly printables, like coloring pages, masks, and Halloween-party invitations.
In case you're unfamiliar with it, Plants vs Zombies is arguably the cutest zombie game ever, and definitely one of the most fun. The player's job is to protect his or her home by planting various plants and flowers that can defend against slow-moving zombie hordes.
The coupon code can be redeemed between Oct. 30 and Nov. 10. It's good for the full version of the game, which normally sells for $19.95.
Plants vs. Zombies has zero sugar, zero calories, and zero cost. That's one seriously good treat.
Veteran technology writer Rick Broida is the author of numerous books, blogs, and features. He lends his money-saving expertise to CNET and Savings.com, and also writes for PC World and Wired.
(Source:
Savings.com
)