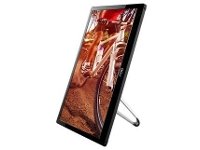 AOC E1659Fwu 16-inch USB-powered monitor review
When it comes to productivity, nothing beats a second monitor. At its most basic, it lets you keep two full-screen windows open simultaneously: browser here, word processor there, and so on.
Indeed, I'll often run Chrome on one monitor and Outlook on the other. Being able to see both at the same time is a huge benefit, to say nothing of a time-saver.
But second screens are also great in customer-service environments, like when you're working behind a desk and want a client sitting opposite to be able to see what you're seeing. And if PowerPoint is your thing, you'll love being able to show a presentation to everyone at the conference table while still interacting with your laptop.
The
AOC E1659Fwu is designed expressly for second-monitor duty
. It's a 16-inch, LED-backlit LCD screen that requires only a USB connection--no VGA, no HDMI, and, perhaps best of all, no AC. That means it's not only portable (AOC supplies a soft carrying case to that end), but also extremely versatile: You can use it with your laptop even if there's no power outlet available.
I tested the monitor with two different laptops and had two fairly different experiences. First, although it's a USB device, it's not exactly plug-and-play: you must first download and install the necessary DisplayLink software.
Second, take note of how many USB ports you have available on your PC and where they're located. My Samsung Series 9 laptop, for example has one on either side of the system. And as it turned out, neither port supplied enough power to run the monitor. (The E1659Fwu's Y-style USB cable has two inputs for just such a situation, but they require side-by-side ports.)
In other words, the Samsung simply couldn't run the AOC, though a USB extension cable would resolve that issue.
Fortunately, the unit worked just fine (and with just one USB port) on my larger, more powerful Acer laptop. However, although it purports to have an auto-pivot feature (meaning it will rotate the onscreen display between portrait and landscape orientations depending on how position the monitor), I couldn't get this to work. In fact, I could find no setting for this option anywhere in the DisplayLink settings.
The good news is it's fairly easy to change the display orientation in Windows' settings, and it's probably not something you'll need to do very often.
Because this is a 16-inch display, it might actually be larger than your current laptop's screen. However, it runs at a 1,366 x 768 resolution, which is okay but not great. In an ideal world, it would deliver 1,920 x 1,080, thereby eliminating some of the horizontal scrolling you need to do when view Web pages in portrait mode.
On the other hand, the AOC E1659Fwu makes for a really slick second monitor, especially for those seeking something portable. It comes with a three-year warranty, and it's quite reasonably priced at $129.99. (Amazon currently sells it for
a few bucks less
.) As long as you've got the USB port(s) to support it, you'll absolutely love what this monitor can do for your computing experience.
Veteran technology writer Rick Broida is the author of numerous books, blogs, and features. He lends his money-saving expertise to CNET and Savings.com, and also writes for PC World and
Wired.
(Source:
Savings.com
)