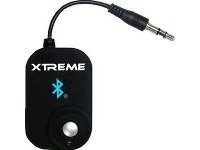 Add Bluetooth to any stereo for just 12 bucks
I'm a huge fan of Sonos audio gear, which lets you stream all your favorite music (playlists, Pandora, Spotify, etc.) to wireless standalone speakers.
But, ho, it's some expensive gear, with even the most basic package starting at $300. My cheapskate nature won't allow me to spend that kind of money on what is essentially a fancy stereo.
Especially when there are such inexpensive alternatives. For example, with my smartphone or tablet and a simple Bluetooth receiver, which can plug into any stereo or speaker I already own, I can fashion a system that's nearly identical to a Sonos--for a fraction of the price.
It works like this: Just plug the Xtreme into the stereo line-in jack on any speaker or stereo system. (It works with car stereos, too.) There's nothing else to connect; the tiny receiver runs on a rechargeable battery, which you can juice up via an included USB cable.
Then just pair your Bluetooth-enabled smartphone or tablet to the receiver. Now you've got a wireless connection for streaming any and all audio from your device.
That means you can listen to your playlists, your favorite apps, even the audio from videos, all from your big speaker(s). Don't call this a poor man's Sonos; it's a smart man's Sonos.
I'm not sure how long the Xtreme will be available at this price, but if you miss out on the deal, don't fret: There are other, similar Bluetooth receivers on the market, many of which routinely sell for under $25. (Belkin makes a popular model that
Amazon currently has for $21.37
.)
So before you invest in a Sonos, Jambox, or some other wireless speaker, try an inexpensive Bluetooth receiver. You might be surprised just how great it can be.
Veteran technology writer Rick Broida is the author of numerous books, blogs, and features. He lends his money-saving expertise to CNET and Savings.com, and also writes for PC World and Wired.

(Source:
Savings.com
)