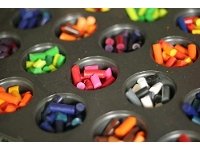 All About Crayons: Three Activities To Do With Your Children
Who doesn't like crayons? I remember collecting crayons when I was younger and making sure that every tip was just so. Like myself, most people identify crayons with their childhood.
The word crayon dates back to 1644, however the history remains unclear where they originated from. While
Crayola
was not the first company to produce crayons, they are the most recognizable brand with their trademark yellow box (
I grew up using them and so are my kids
).
For parents, crayons are mess-free and non-toxic, which makes everything easier and safer--plus it keeps the kids occupied for hours (
in a good way
).
Since kids are very familiar with crayons whether it's using them at school, scribbling at home, or coloring at a restaurant (
most chains offer crayons with a coloring menu
), centering an activity around crayons is a great way to keep your kids engaged.
There are 3 in-home crayon related activities that will be fun for you and the kids. All you need are some inexpensive household products, baking mold, and food colorants to make crayons. With your old crayons, you can make new ones and even some candles.
Make crayons from scratch. It sounds like a tedious process, but in actuality it's a very fun project that is fairly simple. I used the crayon recipe from Wee Folk Art and the crayons came out perfectly. Instead of using round molds that the recipe suggested, we used an animal mold that we already had. After it was all said and done, we had animal shaped crayons that the kids adored.

Make crayons from old crayons. Yes, reuse your old crayons to make new ones. When I was a child, I remember throwing away half broken crayons (not so eco-friendly). Ironically, my daughter does the same thing, so when I discovered that you could make crayons out of old crayons on Planet Green, of course I had to try it out. Not only was is straight forward and easy, it didn't cost me a penny.

Make candles from old crayons. I would have never guessed to make candles from old crayons, but it does make sense since they both involve wax. The steps are pretty straightforward as written by Kathryn Vercillo, but you do have to be organized. The only materials you would need other than crayons are the plastic wax-melting bags, candle molds (or your own baking molds) and wicks.

The activities were not only educational and fun for my children, but it was definitely a stress reliever for myself. Now that we've made crayons from scratch, my kids no longer want to buy them from the store (
well, my 19-month old doesn't care either way
). Another great thing I realized was that we could make candles from the crayons and give them as gifts. So if you're looking to have some fun with your kids, regardless of age, this will definitely be a hit!