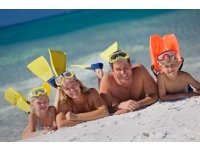 All-Inclusive Family Vacations: Read the Fine Print and Have a Ball
Spring Break is just around the corner and a fabulous all-inclusive family vacation could be just what you need to break the cabin fever rut. The choices are endless: Mexico, the Caribbean, U.S. winter fun, cruises, etc.
But beware: All-inclusive does not mean the same thing at each resort.
Before you start planning your vacation create a list of some of the things you'd like to do. Are you an seeking adventure with physical activities or sightseeing, or do you just want to hang around the pool, enjoy the sun and eat yummy food? Another question to ask is how much child care you are looking for, just a few hours here or there or for many of the days. It's important to read the fine print and find out specific details about what you want. Don't expect something to be included without asking.
All-inclusive, all the food you can eat, right? Well, not always. Some resorts only provide three meals a day, snacks are extra. Drinks also vary. Most have unlimited non-alcoholic drinks, but a margarita may cost extra. Here's an area where you can save some money. Deals that include unlimited alcoholic drinks will cost more and might not be worth it if you have teenagers accompanying you, since they often pay the same as adults.
Find out what fun activities are included and which ones will cost extra. Some equipment rental may be extra. Winter gear, especially skis, are usually an additional charge. At Montecito Sequoia Lodge in California, your kids will have a blast sledding without an extra charge but you'll pay more for snowboard rentals. At other resorts, jet skiing may cost extra, but snorkeling could be included. Resorts that include golfing will often charge for club rentals. Cruises are well known for hefty fees for land excursions. Book your sightseeing trip in advance with a local company to avoid the inflated cruise line charges.
Do some research if you are looking for child care during your vacation. Beaches has a great program that will take care or your toddler with a 3 to 1 ratio or provide excitement for school-aged children and fun for teens as well. You'll get to spend some adult time on your own knowing that your kids are having fun too. Dream Tulum also has child care, but not as extensive as Beaches--a good alternative if you want to include your children in most of your activities.
There are other charges you should be aware of: If your trip includes airfare, your departure taxes probably won't be included.
Club Med
and others have annual membership fees. Gratuities could be extra or might be included, so ask! No one wants to end their vacation with an unexpected large bill. A little bit of planning and a lot of asking will give you the trip that fits your budget and includes all the fun and relaxation you're looking for.
Share your all-inclusive stories with us: Were you left with unexpected charges? Did you have a great experience at a particular resort?