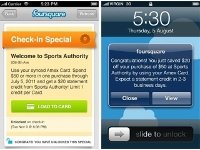 AmEx and Foursquare Earn Their "Convenience" Badge with New Location-Based Deals
It seems that saving money has become as easy as standing at a crosswalk. The GPS on your smart phone or other mobile device not only helps you get around, but also automatically connects you to surrounding restaurants and retail locations. And with the release of American Express and Foursquare's new joint coupon feature, made available by AmEx Smart Offers API technology, the savings are practically following you.
Foursquare and American Express have taken their partnership to the next level and now offer AmEx cardholders location based specials at local restaurants and other retail locations without the hassle of physical coupons, special codes, etc. Foursquare, now clocking in at over 10 million users, allows you to check-in at different locations around the world using your mobile device. It's a win-win for the credit card and the mobile app company: Foursquare gets greater exposure, and the data collected on users' purchases and location is American Express gold.
Foursquare users earn "badges" for frequenting certain locations--for example, the "jetsetter" badge is awarded for five airport check-ins, the "Super User" badge for checking in at least 30 times in a month, and the coveted "Crunked" badge awarded to anyone who hits at least four different places in a night. Now, with their new coupon feature, users will have more than just badges to look forward to when they're out and about.
Check In and Save When You Check Out
When users check in at participating establishments, they'll also have immediate access to exclusive coupons right on their mobile devices. With the touch of a button, coupons are loaded to a user's AmEx account, and used toward their next purchase. They've eliminated having to fuss with paper coupons or jotting down promotional codes. Quick and easy; that's the name of the game.
Offers like $20 back for spending $50 at
Sports Authority
and $10 back for spending $75 at
H&M
will be credited back to the corresponding AmEx account within 2-3 days. Pair these deals up with one of AmEx's
cash back credit cards
, you'll have no problem keeping your wallet stocked.
To sign up, AmEx cardholders can access their account online to register for the service and link their card to the foursquare app. The deals are mainly New York based but the feature is rapidly expanding to different retailers nationwide.
With the ability to save money even before walking through the door, AmEx and Foursquare have set the stage for a coupon revolution. Pretty soon electronic coupons will be the norm, taking the mountain of paper stuffed into mailboxes everyday and conveniently condensing it to fit in the palm of your hand.