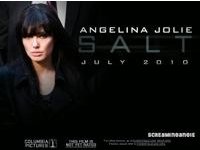 Angelina Jolie in Salt Shows How Women Can Make it in a Man's World
"Who is Salt?" One look at the poster for
Salt
, an action blockbuster slated to open July 23rd, and anyone could tell you that the answer involves Angelina Jolie. Clearly, Angelina Jolie is Evelyn Salt, an ass-kicking CIA agent gone rogue. Which is another way of saying
Salt
is essentially Angelina Jolie as Jason Bourne. Or come to think of it, James Bond--which is actually how Evelyn, rather than Edwin Salt, came to theaters.
From the August issue of Vanity Fair:
"It started with a call from Amy [Pascal, co-chairman of Sony Pictures]," Jolie told me. "She asked if I wanted to play a Bond girl. I said, 'No, I'm not comfortable with that, but I would like to play Bond.' We laughed, and then, about a year later, she called back and said, 'I think I found it.'"
Initially intended for Tom Cruise (
he passed on the project because he wanted to branch out from his "MI:3" character, and bizarrely opted for "Knight and Day" instead
),
Salt
cements Jolie as an actress capable of opening a summer action blockbuster. Of course, Jolie is no stranger to action flicks, moving from lustily handling a gear shift in
Gone in 60 Seconds
, the wink-wink cheesecake of Lara Croft and sexy-sexy assassins in
Mr. and Mrs. Smith
and
Wanted
. But now she's on equal footing with powerhouses like Matt Damon and Will Smith, and no one blinks an eye at Jolie taking on a role originally meant for a male character.
This got me thinking; I often shop for products that are marketed specifically to men, because the prices are usually lower. There's no difference in function, so why not pocket the extra savings?
Here are some products that I've found translate well for both genders:
Check out the skincare products marketed specifically to men. While the packaging may be different, often the active ingredients are the same. For example, L'Oreal's Dermo-Expertise ReFinish Micro-Dermabrasion kit retailed for around $25 - 30 and consisted of an exfoliant and moisturizer. While the moisturizer received poor reviews for inadequate UVA/UVB protection, the real attraction was the aluminum oxide crystal scrub. Lo and behold, sharp-eyed shoppers soon noticed the L'Oreal Men's Expert Power Buff Anti-Roughness Exfoliator, which contained the exact active ingredients as the exfoliant included in the women's kit--and sold at $8 - 10!
While you're in the drugstore, take a good look at the razors and shaving cream. It's another instance of fancy packaging and fragrance. Granted, it's nice if my razors are sorbet-colored and my shaving cream smells like dessert, but at the end of the day I'd rather have the extra money in the bank. Besides, I'm growing quite fond of that manly eucalyptus-scented shaving cream.
Angelina Jolie rocks a white wifebeater-style tank top in Mr. and Mrs. Smith, accessorized with a bazooka. I loved the simple sensuality of the look and found similar undershirts in the men's section. If you're petite, try on XXL or "husky" in boys sizing. Men's t-shirts and sweaters also translate well; you want them to be purposely oversized for a chic, draped style, a la Mary Kate Olsen.
Try out the blazers in the boys department. What works as a classic school uniform is a preppy shrunken blazer for you, and at a much nicer price. Another great bet is classic men's oxford shirts, most famously sported by Sharon Stone at the Oscars, who paired her husband's Gap button down with a luxe Vera Wang skirt.
A word of caution before you start rummaging through the men's aisle (
or your boyfriend's closet
)--don't try this with shoes. When looking for work boots or oxford style shoes, I've found that most men's shoes are simply too wide and the soles uncomfortable, because there are real differences between men's and women's feet, such as higher arches and narrower heels.
If you have any suggestions for more tips and tricks that haven't been mentioned here, please post them in the comments!