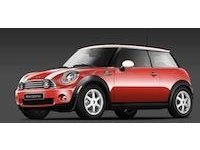 Another sweet automotive deal...15 years later
So besides my usual "miser" like tendencies, I have been lucky to score a good deal on my last auto purchase (
over 15 years ago
).
And no, this new car isn't even for me (
I'm still driving around in my 1994 Honda Civic EX Coupe
), it's for my wife, LOL. Anyway, chalk this up to a little research and knowing the right people.
We went shopping for cars for a few months and ended up with a great new Mini Cooper (
it's actually on order now, but you can see how sweet it's gonna look
).
The bottom line here is definitely consult some online shopping tips on buying new cars. I used the information I learned online to get about $800 off MSRP (
on a Mini, that's great
). I also found out I had a friend who's dad ran a local Mini dealership, so that saved us another $500. Lastly, before I signed on the dotted line, I asked if that was their final price (
pitting one dealership being lower priced than theirs - which may or may not have been true
)...add on another $200 in savings!!!
All tolled, about $1500 below MSRP. I think we did well :)
G
**Update - I found this Yahoo! article on
Car Buying Mistakes
to be really helpful--I hope you will, too!
Also, if you are going to Customize and Order a Mini, be patient...we ordered ours on 12-22-09 and we don't expect to actually "own" it till some time in March 2010 :(