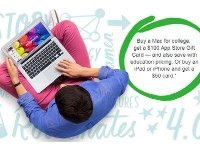 Apple unveils back-to-school deals on Macs, iPhones ,and iPads
The calendar has barely struck July, but
Apple is already giving students some incentive
to start their back-to-school shopping.
Most college students know that Apple offers discounts on the iMac, MacBook Air, and MacBook Pro via the
Apple Store for Education
. Discounts vary depending on the model, but the savings can be as much as $200.
Now, as part of Apple's back-to-school promotion, any college student (including incoming freshmen), parent buying for a college student, or faculty or staff member (from any grade level) can get a $100 App Store gift card with the purchase of a Mac.
What's more, anyone in that same group who purchases an iPhone or iPad gets a $50 gift card.
It's rare for Apple to give anything away, so it's hard to complain about this freebie--but I'm going to anyway. Apps are all well and good (and you can also use the card for things like movies, music, and e-books), but I suspect most students would prefer a straight-up Apple gift card, one that could be redeemed for cases, charging cables, and other accessories.
I must also point out that students and non-students alike can save even more by opting for
refurbished Apple gear
. For example, the student price for a 13.3-inch, 128GB MacBook Air is $1,049, a savings of $50. But a refurbished MacBook Air (same configuration) costs just $849, including the same one-year warranty afforded new units. It's last year's model, yes, but still more than adequate for the cash-strapped student.
And if you buy that Air for $849, you've saved $200, which is obviously worth more than a $100 gift card. Food for thought.
Although it's fun to have money to blow in the App Store, I think most students are better off going the refurb route, as it's even more fun to have extra cash in your pocket.
Veteran technology writer Rick Broida is the author of numerous books, blogs, and features. He lends his money-saving expertise to CNET and Savings.com, and also writes for PC World and Wired.
(Source:
Savings.com
)