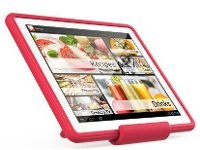 Archos introduces the ChefPad, a tablet just for cooks
That alone makes it an interesting buy, if only because most tablets of this size tend to sell for a lot more. The Nexus 10, for example: $399. The iPad: $499 and up. Even the new Asus MeMo Pad Smart 10 runs $299.
Of course, the ChefPad doesn't have quite the same level of hardware. For example, it employs a 1,024 by 768-pixel screen, which is on the low side for a 9.7-incher.
It also has just 8GB of onboard storage, versus at least 16GB on those other models. And it lacks higher-end features like GPS and Bluetooth. I find the latter very desirable for pairing a tablet with a Bluetooth speaker.
That said, the ChefPad seems more than adequate for its intended location: the kitchen. You don't need an ultra-high-resolution screen for reading recipes and watching cooking videos. And the storage is easily expandable via inexpensive microSD cards.
Further, it runs the full version of Android 4.1 (Jelly Bean) and includes both front and rear cameras, a dual-core main processor, a quad-core graphics processor, and even a pre-installed document viewer. In other words, it's a real-world tablet, not some hobbled specialty tool.
The real question is whether or not the ChefPad offers any real value to chefs, who could just as easily load a more traditional tablet with the cooking apps of their choice. Answer: that remains to be seen.
According to Archos, "The Chef Apps selection...filters through thousands of apps to provide the best cooking content in a range of categories including recipes, drinks, shopping, cooking TV and more. Whether you are looking for dinner ideas, a good wine match, a balanced meal plan or a smoothie, Chef Apps gets it done."
The ChefPad also includes a silicone case designed to protect it from splashes, spills, and other kitchen hazards, plus a stand for propping it at a cooking-friendly viewing angle.
Ultimately, I'd say this looks like a fairly ordinary Android tablet with a case, stand, and cooking-app portal. But what's wrong with that? At $209.99, it's a solid deal, one that's likely to appeal to novice and pro chefs alike. The only downside is it didn't hit stores in time for Mother's Day. (Hey, Archos: You've still got time for Father's Day. How about a blue or black version for dads who like to cook?)
Veteran technology writer Rick Broida is the author of numerous books, blogs, and features. He lends his money-saving expertise to CNET and Savings.com, and also writes for PC World and Wired.
(Source:
Savings.com
)