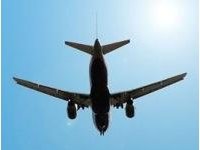 Are Airline Frequent Flyer Miles Really a Good Deal?
Travel credit cards
are great for frequent travelers because they often come with rewards in the form of statement credits or frequent flyer miles. They might seem like a great deal for consumers, but don't let the airlines fool you. Your travel cards aren't costing the airline any money at all. In fact, quite the opposite.
Here are a few facts to consider about travel rewards.
You won't believe how airlines actually make money
Flying you from place to place seems like a profitable venture for the average airline company, but there's a better way to make money these days: frequent flyer miles. Airlines can "forward sell" frequent flyer miles by selling miles to credit card issuers that cardholders will later earn in rewards. This exchange helps airlines by providing them with cash during lean times, and helps credit card issuers to attract high-spending customers.
Don't let them fool you
Airlines may publicly express concern about the number of
frequent flyer cards
that are charging up miles. But behind closed doors, they're counting their profits. It is estimated that in one year, the amount of money lost by all airlines due to redeemed seats from frequent flyer miles is about $1 billion. In contrast, the amount of revenue brought in from the sales of frequent flyer miles is approximately $10 billion.
Your miles may never be redeemed
Although more than 15 trillion miles have been awarded, a large portion of those miles will never be redeemed. Airlines do this by setting the minimum amount of miles at a figure that prevents occasional travelers from earning award flights before the miles expire. Even miles with no expiration date can fade away: the longer those miles sit, the less likely the consumer is to keep track of them. Most frequent flyer miles can't be redeemed for air travel until 25,000 miles are reached. Without miles boosters like credit cards, that can take a long time to accumulate for the average consumer who flies once or twice a year.
Should you use your miles for something else?
Although the airlines make a lot of money off of your travel cards, they would love to make more. With fewer flights offered than in the past, redeeming your
airline credit card rewards
for seats on a plane is much more difficult. As a result, many people have begun redeeming the points for hotel stays or other travel rewards. Hotels, especially those in cities that recently hosted a big event, are having trouble selling rooms. Because of that, they are happy to take your frequent flyer miles.
However, you generally sacrifice a full redemption rate if you cash in for anything besides plane tickets. Your best bet is usually to trade your miles for an award flight, and use them for hotels and such only if they'll go to waste otherwise. Just be aware that redeeming miles for hotel stays is settling for half a loaf.
Bottom Line
Although the airlines are making big profits off of frequent flyer programs, that doesn't mean that you should stop trying to accumulate them. Be on the lookout for consumer-friendly deals like credit card promotions, double-mile flight periods, and the opportunity to earn or redeem miles on partner airlines. Frequent flyer deals are still out there. It just takes some searching.