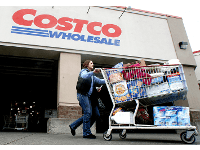 Are Warehouse Shopping Clubs Worth It?
As more consumers are tightening their belts to save money and deal with the struggling economy, warehouse clubs to save money on everyday purchases. Is shopping through a warehouse club really the best way to save money though? Here are a few of the pros and cons to consider before purchasing a membership.
PRO: The Savings
Yes, you can save quite a bit of money on things you buy every day. The key is to remember that not everything in the warehouse club is a good deal. Keeping a price notebook to track the cost of items by their size rather than simply by price the first few times that you shop is a good way to gauge if you are getting a good deal or not.
CON: Membership Fees
To join any warehouse club, you will have to pay an annual membership fee. Many of these clubs offer tiered membership, offering more benefits when you pay more. Some of these benefits can seem tempting, but you need to balance the cost of membership with what you hope to save by shopping at a club. Many warehouse clubs offer free days throughout the year so that you can get a taste of what is offered before paying for a membership. If you're on the fence, take advantage of these days!
PRO: Fringe Benefits
A warehouse club membership not only saves you money on everyday purchases like groceries and paper products, but also saves money on other items like gas, prescriptions and car maintenance. Some memberships even allow you to save on vacations and new cars. Just be aware that some of these benefits are only available to those with more expensive memberships.
CON: Bulk Buying
In general, buying in bulk is a good idea for many families, especially on items that they use often. At warehouse clubs, almost everything comes in bulk sizes. If your family won't use that amount before it expires, then you have actually wasted money by buying the item in bulk. One strategy that many consumers use is to only purchase items they use frequently and in large amounts from warehouse clubs to maximize their savings.
PRO: Cheaper Large Purchases
If you are in the market for new appliances or electronics, you could save the amount of your membership and then some by buying through a warehouse club. The selection is usually not as extensive as in department stores, but you can often save more than 20% off the retail cost.
CON: No Coupons
If you are an avid coupon user, a warehouse membership will not save you as much money as you are used to saving. Most warehouse clubs will not accept manufacturer's coupons, though some have their own coupon program tied to your membership level. If you frequently use coupons, you will likely save more money by shopping elsewhere.
Warehouse clubs can help you save a lot of money if you are careful to only purchase those items that are actually cheaper and that you know will be used by your family. For most families, a warehouse club membership works best as a supplement to their regular shopping trips, not as their only shopping choice.