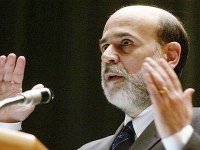 Ask the Advisor: What Does the Bernanke Speech Mean for Interest Rates?
Question
:
Why did Ben Bernanke speak this week and what do you think he is saying about the economy?
For those of you who don't follow financial news closely, Ben Bernanke is the Chairman of the Federal Reserve, also called "the Fed," which is a government body that sets monetary policy. In simple terms, the Fed sets monetary policy by increasing or decreasing interest rates.
The Federal Reserve System is more complex than just interest rates but, for our purpose today, just know that Ben Bernanke has the most influence on the direction of the US economy than any other single person on the planet. If he even hints at raising interest rates, the stock market would likely fall in the short-term because higher interest rates have a taxing effect on consumers and business, which affects everything from spending to corporate profits.
By decreasing interest rates, the Fed can stimulate the economy by making it cheaper to borrow money. The problem that Bernanke and the Fed face today is that interest rates can't get any lower.
Wall Street and Main Street are Listening
To place everything in perspective, Ben Bernanke's speech this week was historical because no other Federal Reserve Chairman has held a press conference. In the past, Fed chairmen have remained inaccessible and often poor communicators (
think of Alan Greenspan's difficult-to-interpret language
).
Personally, I believe Bernanke's move to speak to the press is a genius public relations idea. Knowing he has no more ammunition to pump up financial markets, he can clearly and simultaneously communicate to Wall Street and Main Street that the economy is not falling off of a cliff like it was in 2008.
"Extended Period" Relieves Markets
For more than two years, Bernanke has repeated he and the Fed intend to keep interest rates at a record low near zero for an "extended period." At his press conference, Bernanke said that at this point, that phrase means "a couple of meetings." The Fed meets about every six weeks so financial markets have a few more months to focus on other things, such as corporate earnings, which happen to be pretty good this quarter.
The best way to interpret Ben Bernanke's news conference this week is that the economy is still week enough to keep interest rates low and the job scene painfully slow but strong enough to remain hopeful of better days ahead.
I don't mean to be anti-climactic but Bernanke's speech has no real meaning other than to tell the world, "Don't panic."
Kent Thune is a Certified Financial Planner™ and owner of an independent, "fee-only" investment management firm in Mount Pleasant, SC. Kent is also a freelance writer. To read more of his work or to find out how to contact Kent, please visit his blog at The Financial Philosopher. Have a question? Email AsktheAdvisor@savings.com.
Disclaimer: The information on this site is provided for discussion purposes only, and should not be misconstrued as investment
advice. Under no circumstances does this information represent a recommendation to buy or sell securities.