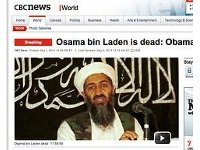 Ask the Advisor: With Osama bin Laden Dead, How Does that Affect the Stock Market?
Image by k-ideas via Flickr

Question
:
Will the death of Osama Bin Laden have any impact on the stock market?
If the first two trading days on Wall Street after Osama Bin Laden's death is any indication, to answer your question, "
No, it will not significantly impact stock prices or world economies in the short-term and probably not in the long-term
."
What is most significant about stock market activity immediately following bin Laden's death is that it was noticeably quiet. At first the Dow Jones Industrial Average received a kind of celebratory bounce in the positive direction but attention quickly returned to corporate earnings and stock prices ended almost unchanged for two days.
Overall, this non-reaction is probably the best possible indication of a healthy environment for capital markets. To translate, investors are focusing on what really matters--financial news--not psychological factors.
A Happy Consumer Equals a Healthy Economy

If there is any residual
influence of bin Laden's death on capital markets
, it's this week's spike in consumer confidence, which comes from a greater overall feeling of optimism of people in the free world. This comes on the heels of the fairy tale royal wedding last week. When consumers are optimistic about the future, they spend money, and consumer spending represents approximately two-thirds of the US economy and much of the world economy as a whole.
In a sense, the death of bin Laden, combined with the royal wedding, gives us all reason to turn the page of history and look toward a brighter future.
Kent Thune is a Certified Financial Planner™ and owner of an independent, "fee-only" investment management firm in Mount Pleasant, SC. Kent is also a freelance writer. To read more of his work or to find out how to contact Kent, please visit his blog at The Financial Philosopher. Have a question? Email AsktheAdvisor@savings.com.
Disclaimer: The information on this site is provided for discussion purposes only, and should not be misconstrued as investment
advice. Under no circumstances does this information represent a recommendation to buy or sell securities.