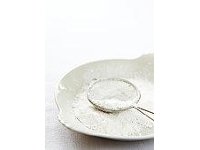 Mrs. Money: Baking Soda for Frugal Multi-tasking
Baking soda is one item that you can purchase that will help green your life in many ways. Baking soda can be used for so many things. I purchase a large bag of baking soda from Costco and use it for everything from cleaning to baking. It is all natural, cheap, and green! Here are some of my favorite uses for baking soda:
Do you have an upset stomach? Try dissolving a 1/4 teaspoon of baking soda in a cup of warm water. Drink over the course of a half hour to help settle the nausea and reduce stomach acid.


Does your vacuum cleaner smell when you use it? Sprinkle some baking soda in the bag or canister and you'll eliminate the odor. If you have some essential oils, you can mix those in with the baking soda before you add it to the canister.


Run out of toothpaste? A small amount of baking soda on your toothbrush will help get your teeth nice and clean and make your breath smell fresh.


Don't have any bathroom cleaner? Mix some liquid soap with baking soda until it forms a paste, and then use to scrub the bathroom!


If you have buildup in your hair and it just doesn't feel clean any more, you can sprinkle about 1/4 cup on your head while in the shower and scrub in. It will help strip your hair of oils and products and leave your hair squeaky clean.


If you run out of dish soap, use some baking soda on a sponge. The gentle abrasiveness of the baking soda will help clean the dishes.


A simple mouthwash can be made by dissolving one teaspoon of baking soda in a cup of water. Swish in your mouth like mouthwash.
As you can see, baking soda is very versatile and a great addition to the frugal and green home. Do you use baking soda?
Mrs. Money writes at the Ultimate Money Blog, where she shares tips on frugal living, how to live green, and living a simpler life.