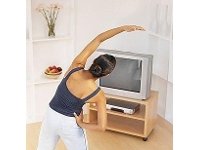 Balanced: 14 Ways to Get Exercise Benefits without a Health Club Membership
One of the ways a lot of people save money (
or cut down during a recession
) is to give up their gym membership. However, they oftentimes put on weight and lose their cardiovascular fitness level soon thereafter. What a lot of gym-rats don't remember is that it is possible to work out without gym equipment.
Read on for a list of 14 ways to exercise without paying for it.
Stretch - Use your own body resistance and after a brief warm-up, spend a half-hour going through your muscles to create more flexibility.


Walk - Walking three or four times around the block (12 to 16 blocks in total) means you've walked an entire mile. Take twenty minutes and get yourself outside.


Take the stairs - Instead of using the elevator at work, use the stairs. If you work on the 37th floor and haven't worked out in years, I suggest taking the elevator to the 32nd floor and hike up five flights instead.


Run the stairs - If you live near a stadium or set of bleachers, you can easily work out for free by running up and down those aluminum seats.


Sprint a football field - Chances are, if you have a set of bleachers near you, you'll have a football field, too. Run 20 sprints of a football field and you've just mastered a mile!


Do some pushups - A great and free available program is offered through 100 Push-ups. Watch your arms transform themselves in just six weeks!


Do some sit-ups - And when you're done with that, do 200 Sit-ups.


Do some squats - When your abs are made of steel, concentrate on your legs with 200 Squats.


Learn to do a proper pull up - And then master 25 pull-ups on a bar at your local playground.


Jog in place - Instead of Tweeting through "How I Met Your Mother," start jogging in front of the television. Thirty minutes of jogging will burn upwards of 300 calories and you might finally figure out if Robin is the mom.


Jumping jacks - Tired of jogging in front of the TV? Start in on the jumping jacks. Just be sure to have plenty of room for your arms and legs to make full movements.


Dance - Turn on some Lady Gaga and bust a move while you're making dinner. Dancing is a great way to burn calories and increase your cardiovascular fitness.


Use a can of soup - Not to eat, but as a weight. A can of beans, a can of tomato sauce, a bag of sugar (be careful not to drop that one) can provide great weight resistance for your arms.


Leg raises - Do these while watching TV, while playing with your children, or when you get home from work. It's an easy way to tone your inner and outer thighs and you'll feel it almost immediately!
It's not to hard to find ways to exercise even when you don't have a gym membership, even if you don't own a single piece of gym equipment!
What are you favorite free workout regimens?
When Sarah's not writing for Savings.com, she's sitting in a tall chair in a construction consulting firm either editing requests for proposals or calculating cash flow on hundred-column Excel spreadsheets. You can also find Sarah at WEGO Health as the Women's Health community leader or writing at her personal blog, Sarahndipitea.