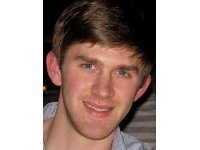 Behind The Scenes: Employee Spotlight with Tim
here.
We're rolling back the curtain to introduce you to the people behind Savings.com! This week, we're moving from our onsite community to your inbox, with Email Marketing Specialist, Tim.
Tim's the person you talk to without realizing it. As incredible as it would be if our daily, weekly, and personalized newsletters magically came together, that isn't the case. We have a team that works to craft each and every one with the best deals; a team composed of Mr. Tim Katlic. Alternating between seersucker and running shorts, he's often found in an elaborate game of chase with one of our office dogs.
Tim took a moment from his busy day to chat with us.
1.
Where are you from?
Rochester, New York
2.
Why Savings.com?
The flexible yet demanding start-up culture is ideal for driving innovation. And it shows: everyone - even the dogs - is passionate about finding new ways to help people save money.
3.
So... what is it you'd say you do here?
I manage the email newsletters that are sent to nearly 3 million Savings.com users every week. Each newsletter is personalized with up to 12 online and printable deals from all your favorite stores.
4.
What hobbies do you enjoy outside of work?
I run near the ocean or in the mountains at least twice a week. It's great to escape from the confines of the city and become one with nature. Also, I run a website devoted to raising awareness of how Africans are using the Internet to improve their quality of life.
5.
Best deal you've ever gotten?
Apart from eating candy straight from the bins at the supermarket as a kid, I'd say 40-50% off at nearly all stores during Cyber Monday 2009.
6.
What do you like to splurge on?
J. Crew and macaroons.
7.
Who's your spirit animal?
The red panda. They really fly under the radar in the animal kingdom but incorporate the best qualities of cats, foxes, and giant pandas.
8.
MAC or PC?
PC since 1992.
9.
Favorite cultural influences?
Nothing beats 80's fashion and 90's music. Star Wars is up there too.
10.
Why Los Angeles?
This city has it all - from micro-climates to subcultures. I love how you can travel a couple of miles and be transported into an entirely different world.
Time for part two of our Employee Spotlight! If you missed last week's spotlight with Community Manager Allegra, you can find it