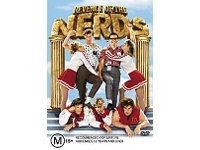 Best Store You've Never Heard Of: TheNerds.net
Who says nerds can't be cool?
This week's
Featured Store
shows why it's high time we all embrace the nerd within and start saving some serious bucks on the electronic gear and gadgetry our secret techie dreams are made of...
TheNerds.net
has been in the business of helping the secretly savvy turn their Electronics Wish List into a more than affordable Electronics Check List thanks to some of the most aggressive
(and maybe even the world!) has ever seen.

Seriously! These guys have got some amazing bargains...
With such a massive selection of products from best-selling brand names like Hewlett Packard, Dell, Garmin, Samsung, Canon and oh-so-many-more, chances are pretty gosh-darn good you're gonna find the latest gadgets you make doodles of and drivel on about in your dear diary notebooks.
Whether you're on the prowl for the hottest new netbook, are looking to replace that dinosaur of a laptop, are ready to upgrade your cell phone, need a GPS navigational system for the Old Man
(why won't he just ask for directions already?!)
or just need to stock up on basic office supplies for work, TheNerds.net has some pretty screamin' deals that will keep both you and your bank account lookin' like a million bucks. Well, maybe not a
million
, but you get the idea.

So check out our latest
coupons for TheNerds.net
here at Savings.com and get ready to make all your little nerdy dreams come true with brand name computers, electronics, housewares, office products and more at affordable prices that will have you splurging on pocket protectors and
'I Love Nerds'
t-shirts like there's no tomorrow!
Even though there is...

Exclusive:
$25 off Sony Blu-Ray Network Audio/Video Player
(exp 6/13)

Other Great Deals:

$10 off Any Order
(exp 7/5)
Save $8 on Orders of $50+
(exp 6/30)