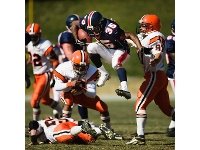 Best Store You've Never Heard Of: Under Armour
Whether you're hitting the gym or hitting the books, this week's Featured Store is sure to have the clothing and gear you need to help you handle the pressures of Fall.
Since 1996, Under Armour has been revolutionizing the way athletes gear up for games thanks to advanced moisture-wicking technology that doesn't just absorb sweat, it actually wicks it off your skin and works with your body to regulate your body heat--meaning you can train harder and longer and come out smelling like a rose. Well maybe not a rose, but you won't smell like a cornered skunk, either!
Founded by Kevin Plank, a former University of Maryland football player, these guys definitely know that practices and games happen in all kinds of weather and that athletes have to step up, regardless of whether it's hot or cold. To help you excel in spite of the elements, Under Armour has developed not just one but three (
Yes, three!
) lines of gear to keep you going strong in any season. Just wear
HeatGear
when it's hot,
ColdGear
when it's cold and
AllSeasonGear
when the weather is everything in between and you'll be able to break your old records and set new ones without even breaking a sweat
(Ha, ha, 'cause it's wicked away! Get it...?)
.
Of course, these guys gear you up for everyday living as well, with polos, t-shirts, backpacks, shoes, accessories and more that combine the same Under Armour technology with the latest fashions to bring you stylish clothing, accessories and more that will help you withstand the pressures of success both on and off the field. And if you're environmentally-friendly--well, they've got a collection for that, too! These guys are all about leaving the smallest footprint possible on our environment by using recycled materials to create their patented performance materials.
So check out our latest
Under Armour coupons
and gear up the smart way with moisture-wicking technology that'll keep you racing ahead of the pack.
Exclusive:
Free Shipping on Orders $50+
(exp 8/31)
Other Great Deals:
20 – 70% Savings at Sports Outlet
(ongoing)
$5 - $25 off Selected Footwear
(ongoing)