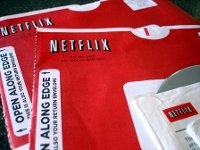 Billeater: Alternatives to the Netflix Price Increase
Since
Netflix
just increased their rates, it seemed like a good time to shop around for alternative movie memberships. What surprised me was that Netflix's increase is minuscule compared to what other rental companies are charging. In my search, I found a few ways for our family to save on movie rentals without giving up our favorite features.
Here's the lowdown on the movie rental services available, how they work, and how you can combine them for maximum savings.
Hunting down a Movie

Now, Netflix has always worked well for us in the past. Although there were many "Watch Now" movies, the selection was missing some of our favorites--such as the Sci-Fi Comedy classic Mystery Science Theater 3000: The Movie. We were dying to watch this one with our nine year-old. Unfortunately, this particular movie never shipped. I reported it missing and Netflix sent yet another DVD that never made it to our home. In desperation for family movie night, I went on the hunt for a "Watch Now" alternative.
Netflix
Our previous Netflix membership was for the one DVD at a time, at $8.99 per month. We hardly ever ordered a DVD, assuming we could remember to return the last one. I double-checked to see that the movie hadn't made the "Watch Now" list. It still wasn't there, so I looked around.
Blockbuste
r
It turns out that the
Blockbuster
membership is a lot more costly than Netflix at about $15 per month. With the option of grabbing a DVD at a store it might be worthwhile, but there aren't many of those left. I decided Blockbuster wasn't the answer. The problem was that there were no other reasonable options. These two services are the only games in town for DVD rental memberships. That meant I needed to find a pay-per-rental alternative. I found that in
Amazon
and
iTunes
.
iTunes
I had no idea iTunes did movies at all, much less movie rentals. Goes to show how things change when you stop paying attention! Rentals are cheap at only 99 cents each, but the selection could be better--our Sci-fi flick wasn't there.
Amazon
I knew that Amazon sold movies and that you could download them. I didn't know you could rent them as well for about three bucks. Best of all, they had our flick! Watching it was truly instant. I clicked, logged in, and it played on the same page. All I had to do was hook the PC up to the TV and click on "Full Screen." The $2.99 rental was good for 24 hours.
Other Options
Some other services offer "Watch Now" movie memberships, but they don't do a good job of telling you what you will get. For instance, Realplayer's service doesn't let you search titles before trying a membership. I found a few other sites like that as well, making me question their legitimacy. Those sites don't have the brand recognition of Realplayer, so why should I even consider them? Plus, why would I sign up for something when I don't know what I'm getting into?
My Choice: Combine Netflix, iTunes and Amazon
In the end, I decided to downgrade Netflix to "Watch Now" only for $7.99 per month. I can always pop over to iTunes or Amazon for a movie Netflix can't offer instantly. I love it when a price hike actually results in savings. I'm paying $1 less per month and the need to rent comes along rarely. Even if the cost turns out to be equal, I'm happy that I won't be hunting down DVD mailing envelopes anymore!
Jessica Bosari writes for the money-saving site, Billeater.com. The site is devoted to helping people reduce expenses, save money and find great deals. Pay Billeater a visit for more money-saving tips!