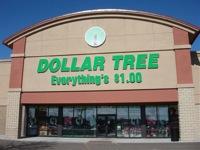 Billeater: Are Dollar Tree Store Items Really a Bargain?
Many people shop at local
Dollar Tree
stores thinking they are getting a great deal on every item they buy. However, if they stopped to look at the quality or actual quantity of the item, they may not be getting their dollar's worth. Although bargains abound at the Dollar Tree, not every item in the store is truly worth a dollar.
Despite the store's name, dollars still don't grow on trees.
The True Cost of a Dollar
For those not familiar with the Dollar Tree, it is a chain of stores that sell thousands of items for only one dollar each. There are many dollar-type stores in the United States, but Dollar Tree is probably the most recognized store name in the country. Dollar Tree also sells in bulk online and operates under a few different names, such as Deal$, Dollar Express and Dollar Bills.
Safety Concerns
Many of the items that the Dollar Tree sells originate in China, a country notorious for manufacturing unsafe items. Over the last few years, notable recalls include children's and adult jewelry that was found to be tainted with lead, and toothpaste that was found to be contaminated with poisonous ethylene glycol--the same ingredient that is used in antifreeze. Recent recalls include children's flashlights and Halloween lanterns recalled due to potential fire and burn hazards.
Many items have serious safety issues. Children's toys tend to be inferior and can break easily, which can be a choking hazard. This is also true for dog toys that simply cannot hold up to a heavy chewer. The pet may chew and swallow the pieces of inferior quality pet toys. Electrical items may not be UL-listed and pose a fire safety hazard. Be smart when purchasing items from the Dollar Tree and don't buy something that may be questionable in safety.
Quality Issues
Quality is a big concern, not only for safety reasons. If the wrapping paper is so thin and transparent that you have to wrap the paper twice around the box, are you really saving money? This principle also applies to thin paper plates, leaky paper cups, weak toilet paper and many other items. The value simply isn't there if you can't use the item for its intended purpose without doubling it.
Cost Per Unit
Another reason to take a second look at the items that you buy from the Dollar Tree is the size of the packages. When you compare the price per quantity, you may find the dollar tree costs more than a convenience store. Add to that the often-inferior quality of the product, and you have no bargain at all. Cleaning supplies are probably the best example of this idea in action. You'd be better off spending $25 on $25 worth of cleaning supplies at the supermarket than spending $5 on $1 worth of cleaning supplies at the dollar store.
Food and Health
Food and health items are questionable too. Some food and health items do not have an expiration date printed on them, so there is no way of knowing just how long that item has been sitting on the shelf. Some of these items may have been on other store shelves for a long time before they were shipped the Dollar Tree.
Finally, be aware that Dollar Tree does not accept coupons or returns, although they do accept exchanges on an unopened item. However, you may only exchange an item for the same product. That means your purchase of an item that turns out to be poorly designed is a waste of money. You can't get a better item and you can't get your dollar back. When you take a closer look, you may see you'd have been better of spending that dollar elsewhere.
Jessica Bosari writes for the money-saving site, Billeater.com. The site is devoted to helping people reduce expenses, save money and find great deals. Pay Billeater a visit for more money-saving tips!