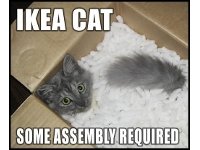 Billeater: My Love-Hate Relationship with IKEA and Why I'll Buy IKEA Furniture Online in the Future
Image courtesy of ICanHasCheezburger

You may or may not recall my recent post on the "
perfect deal
" where I explained the three things vital to my happiness in frugal shopping. They were price, quality and convenience. Never before have I had a perfect deal ruined so badly by the lack of convenience as I did with my recent trip to
IKEA
. I found IKEA's mix of Swedish minimalism and American apathy too much to bear. I know I'm not alone because Stella told me that IKEA is Swedish for "some assembly required"...followed by maniacal laughter.
An Incredible Deal on a Bed turns Sour
My youngest was in need of an upgrade from his toddler bed that was the same size as his original crib. In my search for a twin bed and mattress, I prepared myself to enjoy a truly perfect buy at IKEA when I found a $30 bed frame made from real wood, $20 slats to support the mattress and a twin mattress for $100. I was so excited with anticipation because all the other beds on the market were at least $300. I was so excited about the savings that I decided to throw in another $100 for a comfort foam topper on the bed to make it extra cushy. My little man was being spoiled with a new bed, mattress and Thomas the Tank Engine sheets from
Target
for less than the cost of the cheapest new mattress. What a deal!
Newbie Experience
The nearest IKEA is about an hour from my home. To buy the bed online would cost $80 in shipping, so making the drive was economically the smartest choice. And it was all coming to plan until I made it downstairs to the IKEA dungeon.
For those of you who are unfamiliar with the store, let me give you a little background. There is no question that IKEA merchandise is priced far less than almost anywhere else. Their products are well constructed, so long as you don't mind putting them together yourself. It's one of the few instances when saving money does not involve a big sacrifice in quality. Not everything is as good as my solid wood bed buy, but it's some pretty good stuff.
When you enter the store, you can stop for a bite to eat, drop the kids off at daycare and browse the store at your own leisure. So far, so good. After looking over my intended purchase in person and becoming satisfied that it really was a good deal, I proceeded to find the item on the shelves.
Navigating the IKEA Dungeon

I checked the inventory online before I even went and got a nice little printout that told me the aisle and bin where I would find what I needed. Admittedly, I was a little over stimulated after walking through the expansive showroom floor, so by the time I descended into the stock room, I didn't have a lot of patience for finding what I wanted.
When I couldn't find my item in the location specified, asking several employees resulted in only being directed to the information kiosks, which of course showed the same information as my printout. The IKEA employees couldn't care less if I found what I needed or not. Only after an hour of anxiously pacing in the aisles did I finally find what I needed tucked way in the back of the bin because there were only a few left. By the time I got to the checkout, I had wasted almost an entire day in the store. I had to call a neighbor to rescue my son off the school bus because I couldn't make it back in time. This happened despite my planning an extra two hours into my trip in case anything went awry.
Adding Shipping is Still a Bargain
My harrowing experience in those cavernous IKEA shelves taught me an important lesson. Sometimes, $80 is cheap. I lost an entire day of work to the store. I would have made out ahead if I had paid the $80 and had the items shipped to my home. Let's say I had paid the $80 shipping plus the cost of bed and mattress. I would have put out $230. Even with the added foam topper, only $330 delivered...not the absolute cheapest, but well worth my time savings.
Online purchases save you the time of trying to track down the items you want at the brick and mortar store. They save you from a frustrated emotional response to the store's apathetic employees. Finally, they save you time, which, when you work for yourself, true is money. In all, considering the time lost, I spent more than $80 worth of my time at IKEA. With my new lesson learned, I expect my next IKEA purchase to be a perfect buy, when I shop their clearance online and get it delivered!
Jessica Bosari writes for the money-saving site, Billeater.com. The site is devoted to helping people reduce expenses, save money and find great deals. Pay Billeater a visit for more money-saving tips!