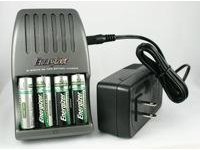 Billeater: Rechargeable Batteries are a Money Saving Investment
Rechargeable batteries are a smart way to save money because they can be recharged hundreds of times with a charger, bringing them back to life. As an alternative to regular disposable batteries, rechargeable batteries can save you big money.
Cost Savings
Although rechargeable batteries cost more to buy, they can save you hundreds of dollars. In fact, the purchase of four AA rechargeable batteries, plus a charger, plus the electricity to recharge them costs a little under $20. Even if you only get 200 charges out of those four batteries (
and you will probably get many more
), you can only get about 20 regular AA batteries for the price. That means you are saving at least $180 on batteries for your investment. The batteries will last you three to five years--assuming you haven't used up your recharges during that time.
Getting the Best Value
Although batteries with a lower mAh capacity will need to be recharged more often, they also can be recharged more times, making them a smarter buy. However, even the higher mAh battery made by
Energizer
boasts a high mAh of 2450 while still being rechargeable up to 250 times. These batteries can hold a charge for up to six months, making them easier to store. Similar
Duracell
batteries come with an mAh of 2650, but the number of charges you can get from them may be a little less.
Maximize Savings
You can maximize your savings by using rechargeable batteries to the greatest advantage. Store your batteries at room temperature in a dry environment. A garage, kitchen cabinet or linen closet may be best. Avoid bathroom closets because of the high moisture levels. Use batteries soon after charging because they can lose 20 - 50 percent of their charge the longer they sit. If you will be storing your rechargeable batteries, it does not make sense to charge them before you put them away. Your best bet is a fast charger. The fastest available currently is about 15 minutes, but there are some in development that might cut that time nearly in half. Do not choose based on the labeling "rapid charger." This term is sometimes used on chargers that take as long as 3 hours. Remember, the first generation chargers took all day to charger a battery. Choose a charger that tells you exactly how long it takes to charge the batteries. By keeping twice the number of batteries you need to charge a device, you can always have an extra set of batteries on hand and can be back up and running with your device in 15 minutes or less.
When Non-Rechargeable Batteries are Better
Choose regular batteries for items needed during an emergency. In such cases, you need to be careful to choose a name brand battery and put all new batteries in the device before it goes into your emergency kit. Some generics have been shown to have 14 percent of the capacity of their name brand counterparts. Of course, some generics are better than others--but don't take chances in an emergency.
Jessica Bosari writes for the money-saving site, Billeater.com. The site is devoted to helping people reduce expenses, save money and find great deals. Pay Billeater a visit for more money-saving tips!