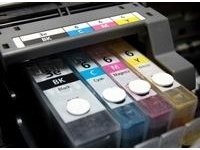 Billeater: Staples and HP Printer Recycling Trade-in Programs Can Save You Money
I know I write a lot about
Staples
, but my best friend works at one nearby and gives me the scoop when good stuff is going on. Much of the 411 he feeds me is stuff I would never think of…like the paper towels they sell. They're as good as Viva (
and oh, those are so good
), but cost a lot less.
His latest tip has to do with printers.
Both Staples and
Hewlett Packard
are trying new programs to promote recycling old, unused printers. If your ancient printer is sitting in the closet gathering dust and you want to get a newer model, you can trade your old printer in to Staples or Hewlett Packard and earn money off the purchase of a new printer.
Staples In-Store
Simply bring in your printer to any Staples location for recycling. In the same transaction, buy a regularly priced one for $199 or more and save $50 immediately off your new printer. You cannot use this special on a printer previously purchased.
Online or by Phone
You could also do like me and order everything from toothpicks to recliners over the Web or phone. Order your printer from Staples' website and bring the old printer to Staples, along with the packing slip once the new printer arrives. Within 10 business days, you'll receive a $50 credit.
HP Trade-in and Save Program
HP's program can save you even more, but it's geared more towards high-end business clients. You'd have to get a pretty pricy printer to realize the maximum savings. HP will give you up to $700 cash back, depending on the model. If you combine certain HP savings with the Trade-in and Save Rebate, you could get as much as $800 in return.
While
HP printers
will give you the most for your recycling efforts, non-HP products can bring you $10, $25 or $50, depending on which model you are trading in. You have 45 days from the date of purchase or until February 14, 2012 (
whichever comes first
) to submit your claim to HP.
Like every good deal, terms and conditions apply. Be sure to check that you have an eligible model printer. Eligible models do not include floor standing units or refurbished models, so make sure you have an HP or non-HP inkjet, an HP desktop Laser or Color LaserJet, or a non-HP laser desktop printer.
This deal is good until December 31, 2011. Make sure you have proof of purchase so that you can trade in your old printer for recycling.
As far as people who haven't received their new printers, HP also states that if you order a product on backorder and it doesn't arrive within the 45-day period, you must show proof that you purchased it while the promotion was running and that it was not available immediately.
If you have multiple printers laying around the house that you no longer use, consider trading them in when you purchase a new model. You can combine savings through these programs to ensure that you will get the maximum possible return.
Jessica Bosari writes for the money-saving site, Billeater.com. The site is devoted to helping people reduce expenses, save money and find great deals. Pay Billeater a visit for more money-saving tips!