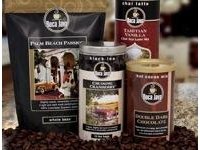 Best Store You've Never Heard Of: Boca Java
For many people, the ingestion of caffeine is as necessary as food, water and breathing. Unfortunately a daily Starbucks habit can often cost $25 per week. Let's do the math: $25/week x 50 weeks a year (
I'm assuming some of you go on vacation...
) equal $1,250 a year to caffeinate yourself.
That's a significant amount of coin!
Fortunately, there's an alternative that preserves taste while conserving cash--and that alternative is this week's
Featured Store
: Boca Java.
For a little more than what a cup of coffee costs at that ubiquitous chain store, you can score an 8 oz. bag of gourmet coffee in blends like Spiced Vanilla Bean, Sumatran Sunset, Irish Creme, Espresso and more. You can choose your blend by roast level
(light, medium, dark, flavored
), size, price and decaf vs. non-decaf. In addition, Boca Java offers a wide variety of teas: white, green, black, herbal, oolong and Rooibos; as well as cocoa and chai mixes, delicious gourmet sweets like chocolate walnut fudge and chocolate covered espresso beans, gift collections and samplers and coffee and tea accessories.
As part of their
Operation Million Cup
, Boca Java--along with its customers--has donated over SIX million cups of coffee to American troops serving in Iraq, Afghanistan and Kuwait. That's pretty impressive! If you're interested in scoring some delicious gourmet coffee and saving some money while you're at it, check out our
Boca Java coupons
. And if you're a Boca Java fan--or would like to taste test some of their quality roasted blends, our friend and DealPro Mindi Cherry of
Moms Need to Know
is hosting a
Boca Java giveaway
for 2 8oz. bags and a $25 gift card. Just head on over to her blog to get the details and enter to win!