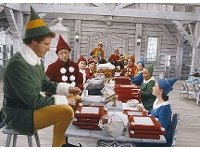 Buddy the Elf and the Top 5 Hot Holiday Toys for 2011
Buddy is an unusual elf at Santa's workshop. He's taller than most elves because, well he's not a real elf. He's human. When Buddy was a baby, he accidentally hitched a ride on Santa's sleigh one Christmas night. (
Like, who wouldn't want to ride Santa's sleigh just once?
)
Buddy was raised by an elf who taught him the most important skill an elf can learn--how to make toys! This year Buddy worked hard on making the Top 5 Hottest Christmas toys for kids.
The hottest Christmas toys are selling out fast. Which toy do you plan to buy for your child this Christmas season?
Charli "Chuck" Gulley is a screenwriter, filmmaker and freelance writer who lives in Southern California. Quite the tomboy, she enjoys Rugby, Fencing and touch football. She's an alumnus of the prestigious screenwriter's workshop, "Writers Bootcamp." Her passion is Hollywood, anything and everything to do with filmmaking. If you don't find her on set, you can find her at the arcade playing air hockey and eating pizza.